New Delhi:
US President Donald Trump said China will be left with no other option but to enter into a trade deal with the United States because his increased tariffs on Chinese products is having an impact on its economy. "The China deal is going to work out. You know why, because of tariffs, because right now China is getting absolutely decimated by companies that are leaving China going to other countries, including our own, because they don't want to pay the tariffs," Trump told CBS news in an interview.
Here are all the latest news of the day:
10:45 pm:Â Additional Dist Magistrate, Sopore: In view of the ongoing encounter b/w terrorists&security forces in Sopore since today afternoon&as precautionary measure,all govt&private educational institutions, in Subdivision Sopore shall suspend their class work tomorrow.
10:30 pm:Â Retired IAS Nripendra Misra reappointed Principal Secretary to PM Modi.
09:50 pm:Â Visual of the wreckage of the missing AN-32 spotted earlier today 16 Kms North of Lipo, North East of Tato, at an approximate elevation of 12000 ft, in Arunachal Pradesh by the IAF Mi-17 Helicopter undertaking search in the expanded search zone.
09:45 pm:Â Thawar Chand Gehlot has been appointed as the Leader of the House (Rajya Sabha).
09:28 pm:Â Former Civil Aviation Minister Praful Patel has been called tomorrow by Enforcement Directorate to record his statement in connection with multi-crore airline seat sharing case.
09:15 pm:Â Private as well as government schools to open at 8 am & close at 1:30 pm from 12-15 June in Kangra district, due to increasing temperature in the region.
08:40 pm:Â Gujarat Chief Minister Vijay Rupani has cancelled the 3-day Shala Praveshotsav (Welcoming to the school festival) from 13 to 15 June in the entire state. He has also declared two days holiday on 13&14 June in schools and colleges in 10 districts where Cyclone Vayu is likely to impact.
08:36 pm:Â Crime Investigation Agency of Haryana Police seized 131 kg of cannabis and 9 kg 100 gram of sulfa drug being smuggled in a car in Rewari district earlier today. One arrested, one accused managed to flee the spot.
08:35 pm:Â PNB scam case: Nirav Modi bail hearing at the Royal Courts of Justice in London concludes. The decision will be given tomorrow at 10 am.
08:30 pm: Gujarat Chief Minister Vijay Rupani holds a special meeting with officers on Cyclone Vayu.

08:08 pm:Â Reserve Bank of India directs banks to withdraw National Electronic Funds Transfer (NEFT) system and Real-time gross settlement (RTGS) system charges with effect from July 1.
08:05 pm:Â Pakistan opened unprovoked intermittent firing of small arms towards Indian side at around 4 pm, today. BSF retaliated which was localised to a limited stretch in Hiranagar sector. No loss/damage of any kind occurred. Firing has stopped from both ends.
08:00 pm:Â Indian Air Force: However, nearest landing site has been identified & the rescue operation by helicopters will commence tomorrow early morning. Ground forces will continue to reach the crash site during the night.
07:59 pm:Â Indian Air Force: After identification of wreckage of AN-32 by Mi-17V5, Cheetah of IAF & Advanced Light Helicopters (ALH) of Indian Army reached the crash site. Due to high elevation & dense forest, helicopters could not land next to the crash site.
07:50 pm: Crown Prosecution Service says if Nirav Modi is given bail during extradition hearings, then that's another thing. But he should not be given bail at this time as he faces serious charges.
07:45 pm:Â Thunderstorm accompanied with lightening and gusty winds likely to occur at isolated places over Thane district during next 3 hours.
07:30 pm:Â Members of RSS participate in the closing ceremony of their training programme at Uluberia in West Bengal's Howrah.
07:05 pm:Â Three dead in car crash on Yamuna Expressway in Greater Noida.
06:55 pm:Â Chief Minister has already decided that a Special Investigation Team (SIT) has to be set up. This is a financial fraud. Firstly we have to secure owner Mansoor Khan, Karnataka Home Minister MB Patil after holding a meeting of senior police officials over IMA Jewels issue.
06:50 pm:Â District Administration install boulders along the coast in Ullal in Mangaluru after very rough sea conditions prevail in the region.
06:45 pm: Nirav Modi pleads to Royal Courts of Justice in London to grant him bail ahead of trial; hearing for his bail application underway. 
06:35 pm:Â Delhi Congress president Sheila Dikshit will meet Chief Minister Arvind Kejriwal, on Wednesday to talk about power and water woes being faced by people in the city.

06:30 pm:Â Defence Min Rajnath Singh and Army Chief Gen Bipin Rawat lay wreath before Lance Naik Mohammad Jawed at Palam Airport.
06:25 pm:Â BJP leader Mukul Roy writes to Home Minister Amit Shah in response to the letter TMC wrote to HM yesterday; states,'There has been a complete breakdown of state machinery and if steps are not taken urgently to contain the situation, the same will go out of hands.'
05:55 pm:Â CBI has registered three more FIRs against Jatin Mehta & others including a foreign national in connection with over Rs. 700 crore bank fraud case. In total, CBI has registered nine FIRs against Jatin Mehta and others, probing bank fraud worth Rs 2100 crore.
05:45 pm:Â Delhi: Union Minister for Minority Affairs, Mukhtar Abbas Naqvi chaired Governing Body & General Body meetings of Maulana Azad Education Foundation, earlier today.
05:30 pm:Â Bengaluru: Karnataka Home Minister MB Patil holds a meeting of senior police officials including DGP, IGP, COP & others, over IMA Jewels issue
05:20 pm:Â Maharashtra CM Devendra Fadnavis chaired a meeting today with Ministers Girish Mahajan, Subhash Desai, Vijay Shivtare, MP Sujay Vikhe Patil, MLA Radhakrishna Vikhe Patil & other leaders at Mantralaya, Mumbai to address various issues.
05:15 pm:Â CMO Punjab: Expressing anguish over the tragic death of 2-year-old Fatehveer, who failed to survive his 108-hour ordeal in a borewell in Bhagwanpura village of Sangrur, CM Captain Amarinder Singh ordered closure of all open borewells across the state. (File pic)
05:00 pm:Â Amaravati: Nikhil Gowda, JD(S) leader and son of Karnataka CM HD Kumaraswamy, met Andhra Pradesh Chief Minister YS Jaganmohan Reddy at the latter's residence.
04:45 pm:Â Argument between Congress leaders from Western Uttar Pradesh following a review meeting in Delhi on election results in UP.
04:35 pm:Â Union Finance Minister Nirmala Sitharaman is holding her 2nd Pre-Budget consultations with stakeholder groups from industry, services and trade today in New Delhi in connection with the forthcoming General Budget 2019-20.
04: 15 pm:Â Rajiv Ranjan Singh alias Lalan Singh selected as leader of JD(U) Parliamentary Party, Baidyanath Prasad Mahto selected as Deputy leader of JD(U) Parliamentary Party, and Dileshwar Kamait selected as JD(U)'s chief whip, for the 17th Lok Sabha.
04:00 pm: Bhubaneswar: Distribution of house building assistance to Cyclone Fani affected families in Puri to be completed soon. 
03:35 pm:Â Botswana has overturned a colonial-era law criminalizing consensual same-sex relations.
03:30 pm:Â Indian Air Force: Efforts are now continuing to establish the status of occupants & establish survivors. Further details will be communicated as the recovery actions progress.
03:25 pm: Union Home Minister, Amit Shah, today chaired a high level meeting to review the preparedness of State and Central Ministries/Agencies concerned to deal with the situation arising out of Cyclone 'VAYU'.
03:01 pm:Â Kolkata: West Bengal Chief Minister Mamata Banerjee installs the bust of Ishwar Chandra Vidyasagar and unveils his statue at Vidyasagar College.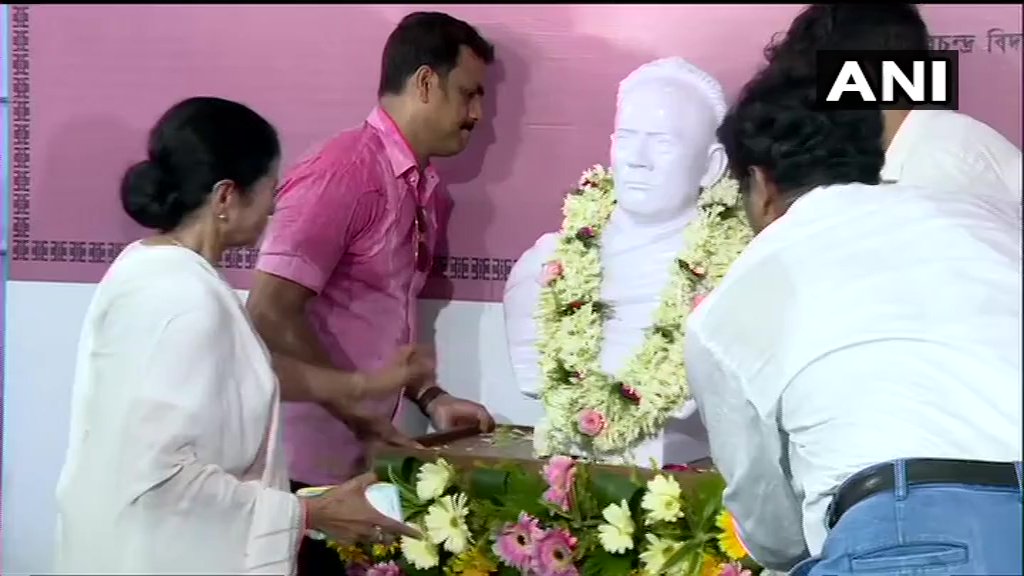 02:52 pm:Â West Bengal CM Mamata Banerjee: I respect the Governor but every post has its constitutional limit. Bengal is being defamed. If you want to save Bengal and its culture come together. A plan is being hatched to turn Bengal into Gujarat. Bengal is not Gujarat.
02:47 pm:Â Maharashtra Minister & BJP leader, Sudhir Mungantiwar: CM Devendra Fadnavis has decided that Maharashtra Cabinet expansion will be done before the upcoming Maharashtra Assembly Session, soon all will hear the good news. Shiv Sena & other allies will get as per their expectations.
02:39 pm: Assam: In a joint operation conducted by Karbi Anglong police and Dima Hasao Police on June 10, they have successfully arrested five cadres of the anti-talk faction of the Karbi People's Liberation Tiger (KPLT) and seized a huge cache of arms and ammunition.
02:30 pm:Â Nagpur: A 4-year-old girl was allegedly raped by a 25-year-old man in Wadi. RL Pathak, Police Inspector says,"The accused has been identified as Bhushan Dahat , he showed the girl some obscene video & then raped her. Case registered under section 376 of IPC."
02:20 pm:Â Indian Ambassador to US,Harsh Vardhan Shringla: I believe so far about 3,000 people have registered to be present on 16 June at International Day of Yoga. We expect that Washington Memorial area will be full of Yoga enthusiasts. I think there will be a good level of participation.
02:15 pm:Â J&K Police on today's Shopian encounter: The two killed terrorists have been identified as Sayar Ahmad Bhat of Yaripora, Kulgam and Shakir Ahmad Wagay of Awneera, Shopian. As per police records both the killed terrorists were inspired by IS ideology.
02:09 pm:Â Kolkata: West Bengal CM Mamata Banerjee garlands the bust of Ishwar Chandra Vidyasagar at a ceremonial programme at the Hare School ground in College Street. Later in the day the bust will be re-installed at Vidyasagar College.
01:57 pm:Â Amid peace talks, Kabul releases more than 200 Taliban prisoners
01:45 pm:Â Union Cabinet meeting & Union Council of Ministers meeting to be held tomorrow in Delhi.
01:34 pm:Â Karnataka: Investors of IMA Jewels, protest outside its office in Bengaluru after they allegedly received a message from founder-owner Mohammed Mansoor Khan, saying he is "tired of bribing corrupt politicians & bureaucrats".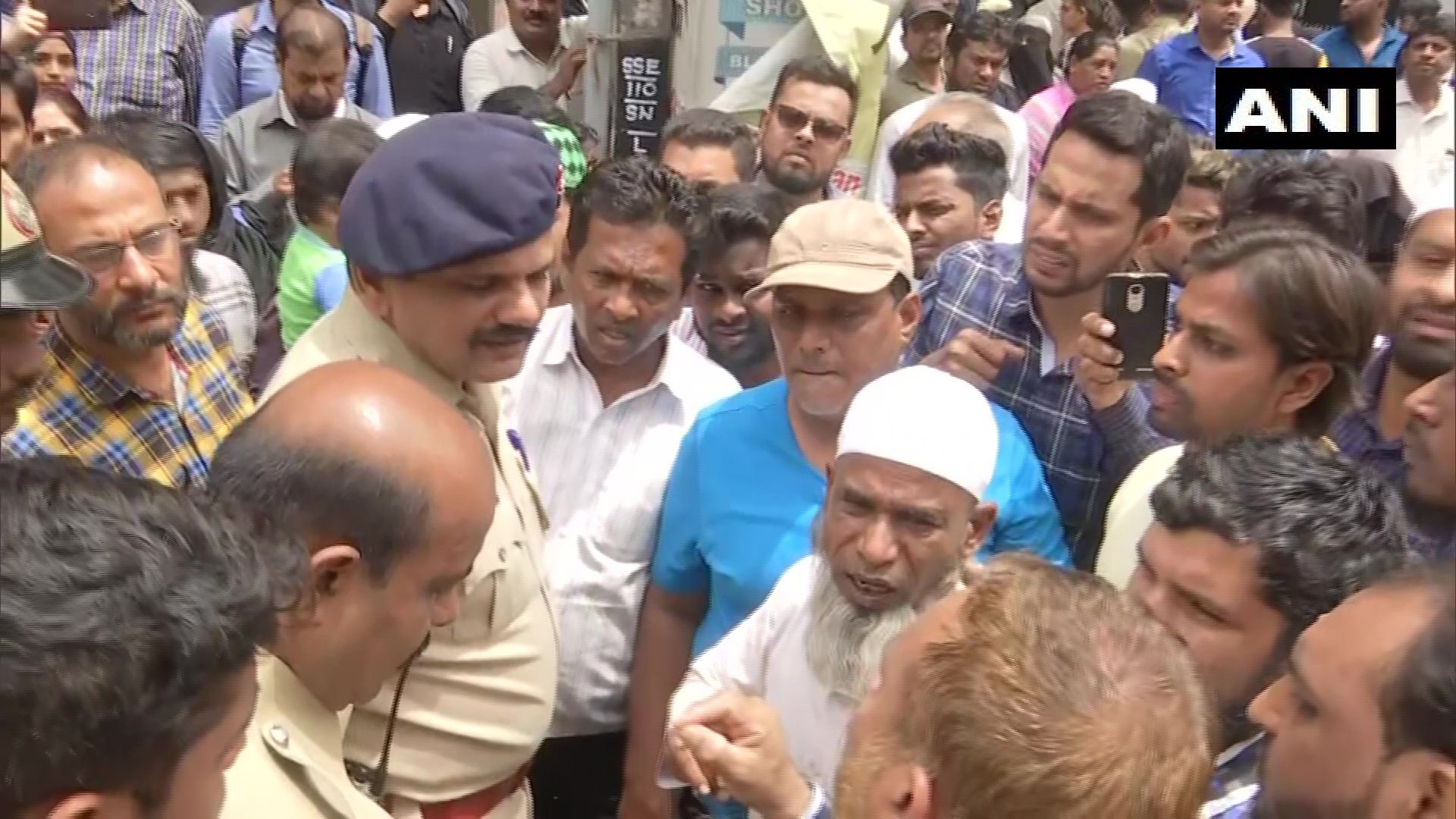 01:20 pm:Â Delhi: Union Minister for Finance & Corporate Affairs Nirmala Sitharaman holds her 1st Pre-Budget consultation meeting with representatives from agricultural sector.
01:03 pm:Â Delhi: Odisha Chief Minister Naveen Patnaik, Governor of Arunachal Pradesh, Brigadier (Dr.) B D Mishra (Retd) and Governor of Karnataka, Vajubhai Vala met Prime Minister Narendra Modi today.
12:45 pm:Â Kolkata:Junior doctors at NRS Medical College&Hospital go on strike after doctors were allegedly attacked by a patient's family who died yesterday. Chandrima Bhattacharya,Health Min,says,"Emergency is open&talks are on.4 ppl have been arrested in connection with attack on doctors".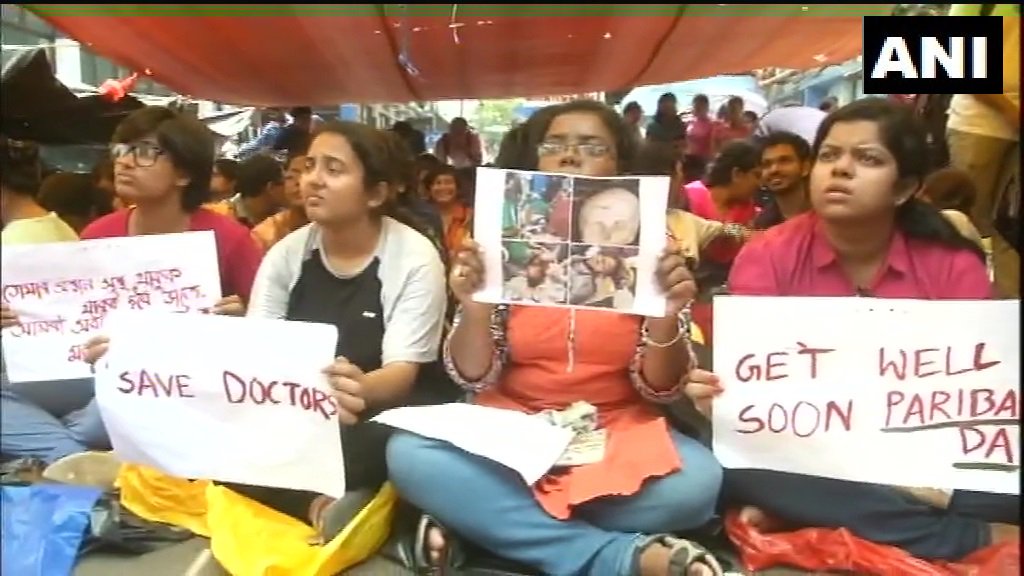 12:30 pm:Â BJP MP Dr Virendra Kumar to be the Protem Speaker of the 17th Lok Sabha.
12:20 pm:Â Supreme Court hearing plea of freelance journalist, Prashant Kanojia observes, "Liberty of citizen is sacrosanct and non-negotiable. It is guaranteed by the constitution and it cannot be infringed."
12:15 pm:Â On 7 June, Directorate of I-T (Investigation) filed 4 supplementary prosecution complaints for F.Y 09-10 to F.Y 12-13 against Gautam Khaitan. Complaints filed for offence under section 276C (1) (willful attempt to evade tax) & 277 (giving false statement on oath) of I-T Act 1961.
12:10 pm:Â Odisha Chief Minister Naveen Patnaik after meeting Prime Minister Narendra Modi: I congratulated him on his electoral victory, I also requested him for special category status for Odisha as we've been hit by a cyclone recently, which did a great deal of damage.
12:04 pm:Â Supreme Court agrees to hear plea of students from Maharashtra stating they are compelled to seek post-graduate medical admission in private medical colleges, after SC scrapped implementation of 10% Economically Weaker Section quota in the state.
11:57 am:Â Supreme Court hearing plea of freelance journalist, Prashant Kanojia, against his arrest for 'defamatory video' on UP CM: Supreme Court says, "Opinions may vary, he (Prashant) probably should not have published or written that tweet, but on what basis was he arrested."
11:45 am:Â Sambalpur: 53-year-old man beheaded while asleep by unknown persons, last night. SP Sanjiv Arora says, "A beheaded body was found, investigation underway."
11:30 am:Â Delhi: EAM Dr. S. Jaishankar flags-off the first batch of pilgrims for this year's Kailash Mansarovar Yatra. Says, "I would like to recognise the support extended by Government of China in organising the yatra, it's an important step towards promoting people to people exchanges."
11:10 am:Â IGP Kashmir SP Pani on today's Shopian (J&K) encounter: 2 terrorists were neutralized, their bodies have been handed over to their families. It was a clean operation, there was no collateral damage. Final search is over, arms&ammunition recovered, case registered & probe underway.
10:55 am:Â Locals in Sangrur protest against the state government over death of two-year-old Fatehveer Singh who fell into a 150-foot-borewell on June 6.
10:45 am:Â Delhi: Chief Minister of Odisha, Naveen Patnaik to meet Prime Minister Narendra Modi and President Ram Nath Kovind, today.
10:30 am: DDGM, IMD Mumbai, KS Hosalikar: Mumbai will also be affected Cyclone Vayu but not severely. Cyclone is expected to cross from 250-300 km away, parallel to the Mumbai coast tomorrow, early morning. A cyclonic warning has been issued for fishermen & people living near the coastline
10:20 am: Cyclone Vayu very likely to move nearly northward and cross Gujarat coast between Porbandar and Mahuva around Veraval & Diu region as a severe cyclonic storm with wind speed 110-120 km/h gusting to 135 km/h during early morning of 13th June 2019.
10:05 am:Â Delhi: Former Civil Aviation Minister Praful Patel arrives at the Enforcement Directorate (ED) office for questioning by the agency, in connection with multi crore airline seat sharing scam.

09:45 am: Rain brings respite in Delhi from scorching heat.
09:26 am:Â Punjab CM Cpt Amarinder Singh tweets, "Very sad to hear about tragic death of young Fatehveer. I pray Waheguru grants his family strength to bear this huge loss. Have sought reports from all DCs regarding any open bore well, so such terrible accidents can be prevented in future."
09:11 am:Â India Meteorological Department (IMD): Mercury expected to remain at 46 degrees Celsius in Delhi today.
09:10 am: Update: Pakistan has given the clearance. Modi's special flight to Bishkek, Kyrgyzstan will be allowed to go via Pakistani air space.
08:20 am: Update:Â Two-year-old Fatehveer Singh, who was extracted from a borewell in Sangrur after 109 hours, dies.
07:30 am:Â Jammu & Kashmir: Two terrorists have been neutralised in an encounter between terrorists and security forces which broke out earlier this morning, in Awneera area of Shopian district. Search operation is underway.
07:10 am:Â Bareilly: A woman Home Guard jawan was set ablaze allegedly by her relative under Baradari police station limits y'day. Magistrate says "She's been admitted to hospital&is stable.Accused brought to police station for questioning. It took place in connection with property dispute"
06:39 am:Â Lakhimpur Kheri:Police Const.Shyam Singh alleges BJP MP Rekha Verma slapped him while he was deputed on escort duty on Jun 9,says,"She passed insulting remarks at me slapped me without a reason,and immediately left the spot. I've filed a complaint against her.Hope to get justice".
06:30 am:Â Iranian President Hassan Rouhani said that the European Union should resist the "economic terrorism" committed by the United States against Iran and fulfill its obligation under the 2015 nuclear deal.
06:00 am: Two-year-old Fatehveer Singh, who had fallen into a borewell in Sangrur, pulled out after almost 109-hour long rescue operation. Taken to hospital.
For all the Latest India News, Download News Nation Android and iOS Mobile Apps.