New Delhi:
We may soon witness another rift between the Government and Judiciary. At least this is what one would make out of Union Law Minister Ravi Shankar Prasad's statement that his ministry was not a post office but a stakeholder in judicial appointments. The claim to be a stakeholder was also made by former BJP ally and PDP chief Mehbooba Mufti. But this was about Pakistan and the Kashmir issue. Mufti said that Islamabad was a stakeholder and must be involved to resolve the issue. Hello and welcome to News Nation real-time breaking blog. Be it politics, sports, business, world or entertainment, we will serve you all the latest news as soon as they break.
Below are the breaking news and latest updates of June 4, Tuesday:
# 10.00 pm:Â BJP general secretary Kailash Vijayvargiya indicated on Tuesday that the TMC government in West Bengal might not be able to complete its term and urged his party workers to prepare themselves as an "alternative force" before the assembly election.
# 09.30 pm:Â A Delhi Traffic Police constable deputed in Seemapuri Circle area has alleged harassment at work by two colleagues. ADCP Traffic (West) BK Singh says, "ACP to conduct investigation in the matter."
# 09.00 pm: President Ram Nath Kovind: On the auspicious occasion of Idu'l Fitr, I offer my greetings and good wishes to all fellow citizens, and to our Muslim brothers and sisters in India and abroad.
# 08.30 pm:Â Mangaluru City police has arrested one cricket bookie and recovered Rs 7 lakhs, 5 mobiles, one laptop from him.
# 08.00 pm: Election Commission: Assembly elections in Jammu and Kashmir shall be considered later in this year, to announce election schedule after the conclusion of Amarnath Yatra. 
# 06.47 pm:Â Prime Minister Narendra Modi on Tuesday received telephone calls from Moon Jae-in, President of South Korea, ED Mnangagwa, President of Zimbabwe, and Filipe Jacinto Nyusi, President of Mozambique, congratulating him on his victory in the recently concluded Lok Sabha elections.
# 04.45 pm:Â Media reports say a gunman has killed at least four people in the Australian city of Darwin. Northern Territory Police Duty Superintendent Lee Morgan says a 45-year-old man was in custody following Tuesday's shooting. Morgan told Guardian Australia, "At this stage we've got reports of four deceased and a number of other people who have been shot." Police contacted by The Associated Press declined to comment.
# 04.15 pm:Â Due to upcoming Amaranth Yatra, security agencies and J&K police have identified names of top 10 terrorists active in J&K-Wasim Ahmed, Riyaz Naiku, Aizaz Malik, Muhammad Ashraf Khan, Mehrazuddin, HM's Ashradul Haq, LeT's Wasim Osama, JeM's Hafeez Omar Zahid Sheikh & Javed Mattu.
#03.30 pm:Â Delhi: Union Home Minister Amit Shah is holding meeting with External Affairs Minister S Jaishankar, Railway Minister Piyush Goyal, Finance Minister Nirmala Sitharaman and Petroleum Minister Dharmendra Pradhan.
#02:20 pm:Â Delhi Health Minister on Ayushman Bharat Yojana in Delhi: It has been implemented in UP-Haryana but why are patients being sent from there to here? What will come out of it, if it's implemented in Delhi? Population of Delhi is 2 Cr, 10 Lakh people will benefit. We won't do this.
#02:09 pm:Â Enforcement Directorate changes Investigating Officer (IO) in Robert Vadra case. Rajiv Sharma who was the IO of this case is on leave. Mahesh Gupta is investigating the case now and is recording the statement of Robert Vadra, today.
#01:57 pm:Â AN-32 search update: ISRO satellites pressed into service over parts of Arunachal Pradesh and Assam to locate the missing AN-32 transport aircraft with 13 people on board. Su-30MKI, C-130J Super Hercules and other assets continuing search ops in cloudy weather.
#01:46 pm:Â Abdul Sattar, expelled Congress MLA: 8 to 10 Congress MLAs are in touch with BJP. Disappointment with Congress leadership in state and their way of functioning are the reason behind our decision. State leadership is destroying the party here.
#01:40 pm:Â Radhakrishna Vikhe Patil on his resignation as Congress MLA: I didn't even campaign for the party during Lok Sabha elections. I don't doubt High Command, they had given me an opportunity by making me the Leader of Opposition. I tried to do good work but situation made me resign.
#01:34 pm:Â West Bengal Police: Coochbehar District Police has arrested 4 people & recovered 4 firearms, ammunition, 4 live bomb and weapons from their possession.
#01:25 pm:Â Roshan Baig, Karnataka Congress:I'm a disciplined soldier of Congress. I spoke against state leadership of the party, didn't utter a word against central leadership. We can't be mute spectators to what's happening here. Senior leaders like Ramalinga Reddy & me are being sidelined
#01:20 pm:Â The court has sought response on the application of Nirbhaya's parents seeking to expedite the execution of the rape convicts. The court has asked jail authorities to apprise it with various legal remedies that all four convicts have availed and which are pending.
#01:14 pm:Â Nirbhaya rape convicts execution plea: Delhi's Patiala House Court issues notice to Tihar jail Superintendent through DG Prisons with a direction to appear in person along with the status report of the convicts on July 19.
#01:09 pm:Â Maharashtra Congress leader Radhakrishna Vikhe Patil resigns as MLA, submits his resignation to Speaker of the Vidhan Sabha.
#01:00 pm:Â DSP Dhanbad: The para teacher was saying that he would self-immolate so we are here. He has been detained and appropriate action will be taken.
#12:57 pm:Â Dhanbad:Mohammed S Sheikh, a para-teacher stopped by police from attempting self-immolation outside Dy Commissioner's office yesterday, says,"We don't receive our salaries on time. Govt is not concerned. It's better to die near DC Office than to die at home. So I took this step."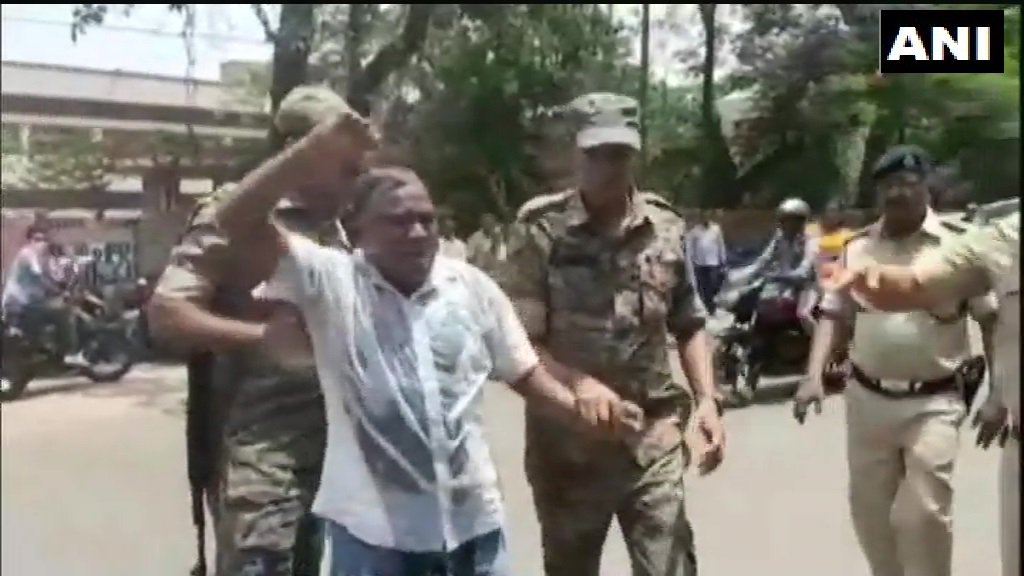 #12:50 pm: Former Andhra Pradesh Minister JC Diwakar Reddy quits politics. He unsuccessfully contested the General Elections 2019 on a TDP ticket from Ananathapuram. 
#12:35 pm:Â Union Minister Prakash Javadekar: Kapil Dev & Jackie Shroff will also participate & plant a sapling tomorrow at Paryavaran Bhawan at 10:30 am. Several other similar programs will be held in next 2-3 days where many more people will take part in the program.
#12:30 pm:Â Union Environment Minister Prakash Javadekar: Environment Day is celebrated across the globe on June 5. I'm sure ppl of India will also celebrate it with lot of enthusiasm. We've launched a program for ppl to plant a sapling, click selfie with it & post it as #SelfieWithSapling.
#12:20 pm:Â Delhi: Union Minister & Shiv Sena MP, Arvind Sawant, takes charge of Ministry of Heavy Industries and Public Enterprises.
#12:05 pm:Â SP Chief Akhilesh Yadav on SP-BSP coalition: If the coalition has broken, I will reflect deeply on it & if the coalition isn't there in the by-elections, then Samajwadi Party will prepare for the elections. SP will also fight on all 11 seats alone.
#11:55 am:Â Kerala Health Minister KK Shailaja on 1 person tested positive of #NipahVirus: Out of 86 patients suspected, 2 were admitted. 2 nurses who treated the patient initially have sore throat & fever. Sample of second patient will be sent to NIV Alappuzha, Manipal Laboratory & NIV Pune
#11:30 am:Â Union Health Min Harsh Vardhan: I have assured the Kerala Health Minister of all possible support from the Central govt. We are also in touch with wildlife department to seek their help for subjecting the bats for testing of the virus. I don't think there is any need to panic.
#11:23 am:Â Union Health Minister Harsh Vardhan on NipahVirus: Today morning I have called a meeting at my residence with all the officers including health secretary. Yesterday itself we had dispatched a team of six officers to Kerala.
#11:10 am:Â BSP Chief Mayawati on SP-BSP coalition: However, we can't ignore political compulsions. In the results of Lok Sabha elections in UP, base vote of Samajwadi Party, the 'Yadav' community, didn't support the party. Even strong contenders of SP were defeated.
#11:05 am:Â BSP Chief: Ever since SP-BSP coalition took place, SP Chief Akhilesh Yadav & his wife Dimple Yadav have given me a lot of respect. I also forgot all our differences in the interest of the nation, & gave them respect. Our relation isn't only for politics, it'll continue forever.
#10:55 am:Â Delhi: Robert Vadra arrives at the office of Enforcement Directorate in connection with a money laundering case.
#10:30 am:Â Delhi High Court has issued notice to BSF on a petition filed by 30 Teaching & Non-Teaching staff of BSF Polytechnic, seeking regularisation/relocation of their jobs. HC has asked BSF to reply within 4 weeks and has posted the matter for July 9.
#10:17 am:Â Karnataka Congress leader Ramalinga Reddy: You can't give 'makkhan' (butter) to one side & 'chuna' (lime) to other. I've never lobbied for opposition. But there should be fairness in allocation of portfolios. Not raising voice against injustice is wrong, that is why I have spoken
#10:05 am:Â Delhi: Union Minister Nitin Gadkari takes charge of the Ministry of Road Transport and Highways.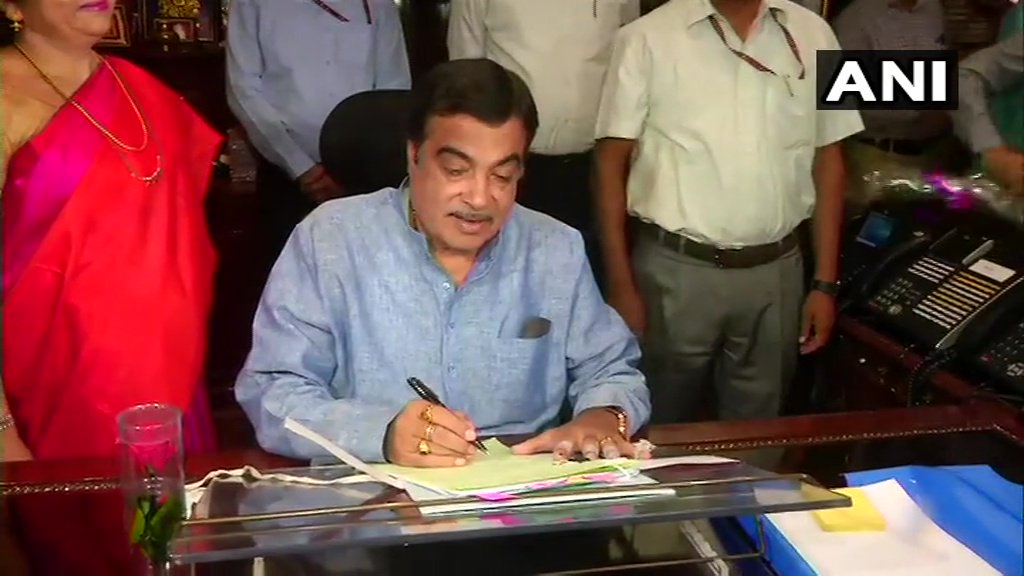 #9:57 am:Â Delhi Police sends a reminder to Delhi Government for sanction to chargesheet Former Delhi minister Sandeep Kumar, who is accused of sexually assaulting a woman. The sanction is pending with Delhi Government since around 1 year.
#9:35 am:Â Kerala Health Minister KK Shailaja confirms Nipah virus case.
#09:10 am:Â Ranvijay Singh, SP City Baghpat: A group of people claiming to be part of an organisation informed police of presence of animal carcass in Bhaghpat. Police immediately reached the spot,however, the carcass seemed to be months old. Further investigation will be done.
#08:19 am:Â Tirumala: Vice President Venkaiah Naidu along with his family visits Tirupati Balaji temple.
#08:06 am:Â Kerala Health Minister KK Shailaja: Nipah virus not confirmed yet. 86 people under surveillance, we'll soon get a result from Pune Virology Institute. The govt is fully equipped to deal with the situation. Special isolation ward set up at Ernakulam Medical College, Kochi.
#07:45 am: Update:Â 2 persons have been arrested in connection with the case. A resident of Nehru camp, Govindpuri was beaten to death, allegedly after he slapped another man for urinating near his residence last night.
#07:30 am: Indian Air Force's missing AN-32 aircraft with 13 people on board is still not located. C-130J and ground patrols of the Army are still carrying out search operations.
#07:15 am: Agartala:Â A Mahila Congress worker has filed a complaint with the East Agartala Police Station on Monday alleging BJP leaders of seeking extortion money from her family after the results of Lok Sabha elections.
#07:09 am:Â Amidst reports of misunderstanding between BJP and JDU; Nitish, Sushil Modi attend 'iftar' hosted by Ram Vilas Paswan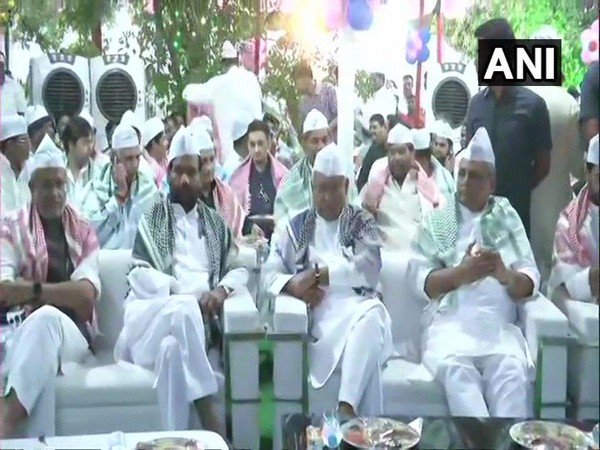 #07:02 am: Supreme Court will today hear Puducherry Lieutenant Governor, Kiran Bedi's plea challenging the Madras High Court order that curtailed her powers.
#06:54 am:Â Maharashtra: A speeding car ran over a pedestrian near Mahalaxmi railway station in Mumbai, last night. The driver of the car has been arrested.
#06:50 am:Â Delhi: A resident of Nehru camp, Govindpuri was beaten to death, allegedly after he slapped an another man for urinating near his residence last night. Police say, "Leelu slapped Man Singh for urinating near his residence & a scuffle broke out in which Leelu got injured & died."
#06:45 am:Â Tiananmen Square massacre: US urges China to reveal fatalities, release prisoners
#06:40 am:Â Muslim ministers decide to resign as wave of communal violence grips Sri Lanka.
#06:30 am:Â Jammu and Kashmir: Indian army in association with an NGO, set up a bakery in Mangnar village of Poonch district to provide employment opportunities for the local women.
For all the Latest India News, Download News Nation Android and iOS Mobile Apps.