New Delhi:
Hello and welcome to Tuesday's live blog. From politics to sports to entertainment, the Internet is buzzing with the breaking news and headlines from across the globe. While people across India get into celebratory mood with the festivity of nine-day-long Navratri, situation is yet to be normalised in Jammu and Kashmir where tension has been palpable following the abrogation of Article 370 by the Centre on August 5. Meanwhile, the Supreme Court is scheduled to begin hearing on a batch of petitions challenging the scrapping of the provision in Article 370 that gave special status to Jammu and Kashmir. Union Home Minister Amit Shah will be in Kolkata where he is scheduled to address a NRC convention and inaugurate a Durga Puja pandal. Here in this segment, News Nation brings you live news from all corners of the world. The latest stories will appear in our live blog below - so keep scrolling down.
Here are the LIVE updates:
09:15 pm: Punjab Chief Minister's Office: Chief Minister Capt Amarinder Singh has asked the Central Government to cut down on the 30-day notice period for pilgrims to apply online for visiting the historic Sri Kartarpur Sahib Gurdwara during the 550th Prakash Purb celebrations.
09:10 pm: Jammu and Kashmir Governor Satya Pal Malik today gave assent to the J&K National Law University Bill, thereby paving way for the establishment of a National Law University in J&K.
09:05 pm: West Bengal Minister Amit Mitra: Amid celebrations of Durga Puja, Amit Shah is scaring our people with NRC pitch in Bengal. This is threatening a section of people. Hindu, Sikh, Jain, Buddhist, & Christian refugees will not be included in the process. This is unconstitutional.
08:55 pm: Ceremonial Border Personnel Meetings (BPM) between the Indian Army and Chinese Army were organised at Natu La, Bum La, and Kibithu today, to celebrate the Chinese National Day.
08:45 pm: Karnataka: Karnataka CM BS Yediyurappa & Shuttler PV Sindhu inaugurated 'Yuva Dasara Sports Event' in Mysuru, today.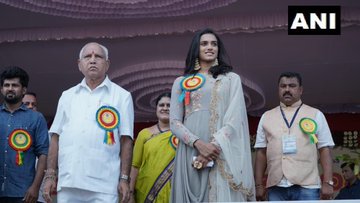 08:25 pm: Commissioner of Customs, Chennai International Airport: One person arrested in possession of 6 gold bars weighing a total 555 grams, valued at approximately Rs 21.3 lakhs. The gold bars were concealed inside a utensil (murukku maker). Further investigation underway.
08:10 pm: DMK: Party President MK Stalin has urged Prime Minister Narendra Modi to make Tamil as one of the official languages of the country. PM himself accepted that Tamil is the oldest language in the world, hence Centre has the responsibility to recognize the language.
07:50 pm: DGCA suspends 2 pilots of IndiGo airlines for 3 months over a runway incursion at IGI airport in Delhi, on 2nd June. Investigation revealed that crew did not follow the "hold at holding point RWY10" instruction from the Air Traffic Control (ATC).
07:30 pm: PM Modi at valedictory function of 'Arogya Manthan' in Delhi: Ayushman Bharat ensures medical treatment to patients from all over the country, which was impossible earlier. In the last 1 year around 50,000 beneficiaries have availed its benefits, outside of their home states.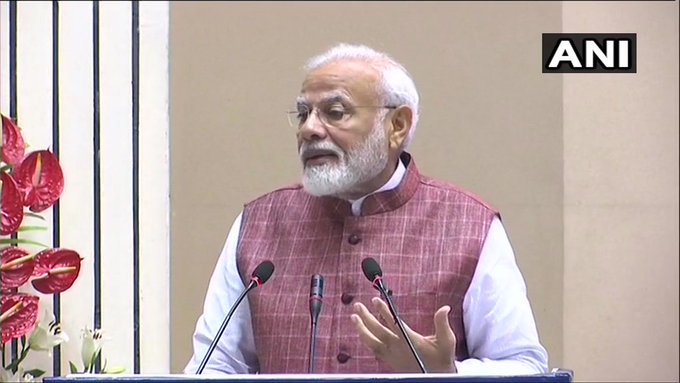 07:10 pm: Delhi: Kerala Chief Minister Pinarayi Vijayan called on Defence Minister Rajnath Singh, today.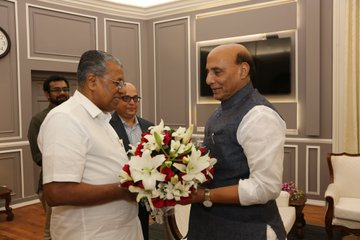 06:50 pm: Jammu and Kashmir: Pakistan violated ceasefire in Shahpur, Kirni, & Qasba sectors of Poonch district at about 3:50 pm today. Indian Army retaliating.
06:30 pm: A Pakistani national who had legally migrated to India in May this year, has approached Delhi High Court seeking admission of his 3 siblings in a Delhi School. Petition contends that the Delhi Government had denied admission to his siblings due to upper age limit.
06:15 pm: BJP leader Eknath Khadse has openly defied the party and filed nomination for the upcoming Maharashtra Assembly elections. Khadse said, "In past 25 years from the times of Pramod Mahajan and Gopinath Munde ji, I was the part of decision-making bodies in BJP Maharashtra. I decided tickets for others."
05:55 pm: Union Ministry of Home Affairs issues notification declaring Tirap, Changlang, and Longding districts in Arunachal Pradesh, and areas under four other police stations as "disturbed area" up to 31st March 2020, unless withdrawn earlier.
05:50 pm: Union Minister Smriti Irani inaugurated a 'charkha' (spinning wheel) made of used plastic waste, in Noida on the eve of Mahatma Gandhi's 150th birth anniversary.
05:45 pm: Delhi CM: We have never denied medial treatment or education to anyone. We're happy, if we can help needy people, give them treatment, & educate children, be it any citizen of country. We want educational & medical facilities like Delhi to be provided in rest of country as well.
05:40 pm: Congress MLA from Haryana Anand Singh Dangi files nomination before party announced candidate list for upcoming Assembly elections; says, " I don't need to ask for a ticket. My ticket is final & can get another, if somebody else wants".
05:30 pm: Reserve Bank of India: There are rumours in some locations about certain banks including cooperative banks, resulting in anxiety among depositors. RBI would like to assure the public that Indian banking system is safe&stable&there is no need to panic on the basis of such rumours.
05:25 pm: Amit Shah in Kolkata: I today want to assure Hindu,Sikh,Jain,Buddhist &Christian refugees, you will not be forced to leave India by the Centre. Don't believe rumours. Before NRC, we will bring Citizenship Amendment Bill, which will ensure these people get Indian citizenship
05:20 pm: BJP President Amit Shah in Kolkata: West Bengal and article 370 have a special connection, because it was the son of this soil, Syama Prasad Mukherjee ji who raised the slogan 'Ek Nishan, Ek Vidhan aur Ek Pradhan'
05:10 pm: Kolkata: Former Mayor of Bidhannagar (West Bengal) and TMC MLA Sabyasachi Dutta joins BJP in presence of Party President Amit Shah.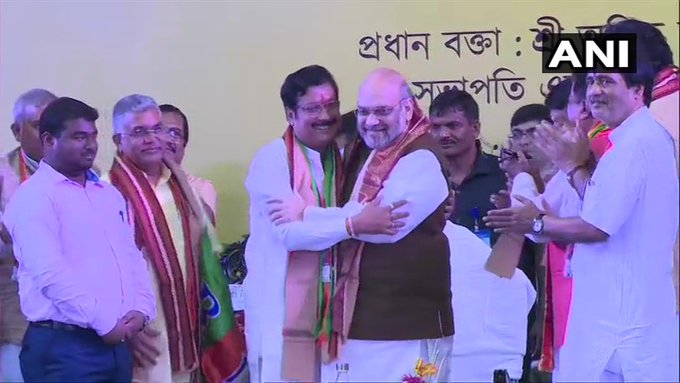 05:00 pm: BJP President Amit Shah to inaugurate party's 'Gandhi Sankalp Yatra' tomorrow from Delhi, the yatra will conclude on 31st October, which is the birth anniversary of Sardar Vallabhbhai Patel.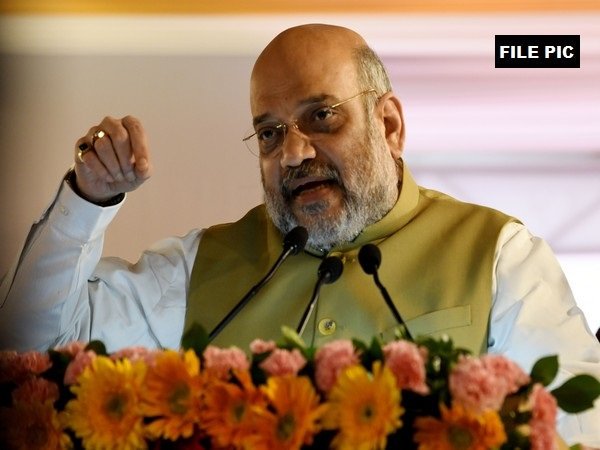 04:50 pm: Former Union Minister P Chidambaram moved an application in a trial court seeking home cooked food during judicial custody that ends on October 3. Court to hear this plea on October 3.
04:30 pm: Dutch King Willem-Alexander ahead of his visit to India: India is,of course,amazing,the vibrant technology,innovation&it's amazing place for doing business.Indian people believe in sustainable future.They know from their religious side importance of our planet&can help preserve it.
04:10 pm: BSF: Today, body of missing BSF Sub-Inspector Paritosh Mandal has been recovered from Pakistan side by Pak Rangers. Mandal was missing since 28 Sept from Aik Nallah, near International Boundary while on patrolling duty. He had drowned while negotiating Nallah following an input.
03:55 pm: A Delhi Court extends the judicial custody of Karnataka Congress leader DK Shivakumar till 15th October in a money laundering case. Court has also allowed Enforcement Directorate (ED) to further interrogate him on 4th and 5th October in Tihar jail.
03:30 pm: UP DGP on reports of 'UP Police asked to identify & deport foreigners': It has nothing to do with NRC. Bangladeshis & foreigners who've been living here illegally will be identified & their documents will be verified. They will be deported if their documents are found to be false.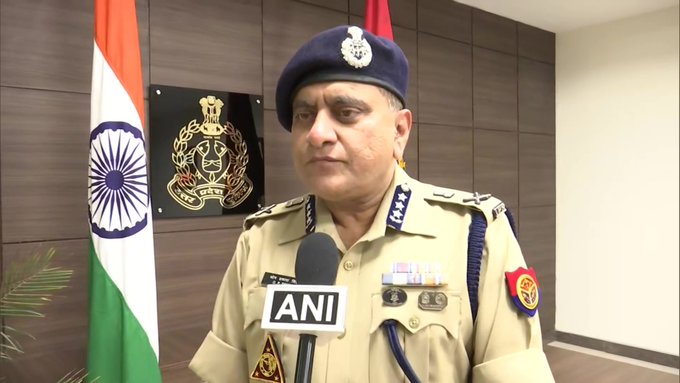 03:00 pm: Public sector bank employees to get one month salary as good will gesture on festival.
02:30 pm: PM Narendra Modi wishes President Ram Nath Kovind on 74th birthday.
02:00 pm: Congress leader DK Shivakumar's ED custody extended till October 15.
01:30 pm: Shiv Sena releases names of 124 seats it will contest in Maharashtra polls, finalises 70 candidates.
01:00 pm: BJP releases list of 125 candidates for Maharashtra Assembly polls, Chief Minister Devendra Fadnavis to contest from Nagpur.
12:30 pm: Watch: Man gets trapped under train, policeman saves his life.
12:00 pm: Supreme Court granted Centre four weeks time to file its reply on the various petitions challenging abrogation of Article 370 in Jammu and Kashmir and fixed the matter for further hearing on November 14.
11:45 am: Hearing in case against Yasin Malik for killing of four Indian Air Force (IAF) personnel in Kashmir has been adjourned till October 23.
11:30 am: The Division Bench of Calcutta High Court grants anticipatory bail to former Kolkata Police Commissioner Rajeev Kumar in the Saradha chit fund scam case.
11:20 am: Supreme Court sets aside the Bombay High Court order which had dismissed the plea that sought annulment of Maharashtra CM Devendra Fadnavis's election to the Assembly alleging non-disclosure of all pending criminal cases against him.

11:15 am: Supreme Court partly allows the review petition filed by the Centre against Court's judgement of 'diluting' various stringent provisions of SC/ST (Prevention of Atrocities) Act.
11:00 am: Tibetan Youth Congress workers in Delhi held a protest outside the Embassy of China on China National Day, today. The protesters were later detained by the Police.
10:45 am: One more terrorist has been neutralised in Jammu and Kashmir's Ganderbal. Weapon and warlike stores recovered. Operation in progress. Three terrorists were killed on September 28, the day when the encounter started.
10:30 am: Essential supplies of food and drinking water is initiated by the state government and efforts are underway to restore electricity in flood affected areas in Bihar.
10:15 am: In view of the flood situation in Bihar, 22 NDRF teams and 2 IAF helicopters have been deployed across the state.
10:00 am: Congress leader and Wayanad MP Rahul Gandhi met Kerala CM Pinarayi Vijayan at Cochin House today. The issues discussed between the leaders are - flood relief and rehabilitation efforts, issue of night traffic ban on the forest stretch of NH-766 along with several others that concerning the nation today.
09:45 am: A 25-year-old man was shot dead by two-bike borne assailants in Delhi's Kalyanpuri area today morning.
09:30 am: 136th Battalion of Border Security Force has seized 2 kg 135 gram heroin worth approximately Rs 10 crore from near its border outpost in Old Mohammadiwala of Punjab's Ferozepur.
09:15 am: Dewatering machine is being used to clear flood water in SK Puri area of Bihar's capital city Patna.
09:00 am: One BSF jawan received minor injuries in ceasefire violation by Pakistan at Manyari post of Hiranagar in Jammu's Kathua district last night.
08:45 am: Supreme Court to begin hearing on a batch of petitions challenging the scrapping of the provision in Article 370 that gave special status to Jammu and Kashmir.
08:30 am: Union Home Minister Amit Shah to speak on National Register of Citizens (NRC) and Citizenship Amendment Bill at Netaji Indoor Stadium in Kolkata.
08:00 am: Lakshmi Vilas Bank has issued a public notice addressed to its stakeholders stating that recent restriction put on it by the Reserve Bank of India as Prompt Corrective Action has no connection whatsoever with FIR registered in Economic Offences Wing (EOW) by Religare Finvest Ltd.
07:30 am: Pakistan violated ceasefire in Shahpur and Kirni sectors of Jammu and Kashmir's Poonch district on Tuesday morning. Indian Army is retaliating.
07:00 am: Supreme Court to pronounce its verdict on a review petition filed by the Centre against its judgement diluting various stringent provisions of SC/ST Act, today.
06:30 am: External Affairs Minister S Jaishankar, who is on a three-day visit to Washington, will meet United States Defence Secretary Mark Esper today.
06:00 am: BJP national general secretary Ram Madhav said that only 200-250 people are under preventive detention in Jammu and Kashmir now.
For all the Latest India News, Download News Nation Android and iOS Mobile Apps.