New Delhi :
Hours after the Supreme Court allowed the rebel Karnataka MLAs to submit their resignations to Assembly Speaker, Ramesh Kumar moved the top court seeking stay of the morning order saying that he can't verify the resignations by the end of the day. But the Supreme Court declined Karnataka Speaker's urgent plea, saying his plea will be heard tomorrow. With this, the stage shifts to Vidhana Soudha, where the rebel MLAs will meet the Assembly Speaker at 6 pm. The dissident Karnataka MLAs, who were camping in a Mumbai hotel, has left for Bengaluru to meet the Speaker. They will submit fresh resignations after the Speaker canceled some of them saying they didn't fulfill the due guidelines. We are keeping a track on all the developments happening in Karnataka, so stay with us.
Karnataka Crisis: As it happened
#07:20 pm: MLAs don't communicate to me & rush to the Governor. What can he do? Is it not misuse? They approached the SC. My obligation is to people of this state & Constitution of the country. I am delaying because I love this land. I am not acting in haste"
#07:14 pm: On Monday, scrutinized resignations based on rule 202, Karnataka Assembly Rules&Procedures. Eight letters weren't in the prescribed format. In case of the rest, I'm obliged to look if resignations are voluntary and genuine. Won't speak about voluntary and genuine nature of resignations: Karnataka Speaker
#07:10 pm: On July 6, I was in my chamber till 1.30 pm. The MLAs came there at 2 pm, they didn't even take prior appointment. So, it's untrue that I ran away because they were coming: Karnataka Speaker
#07:08 pm: I felt hurt when I saw some news that I am delaying the process. Governor informed me on 6th. I was in office till then and later I left for personal work. Before that no MLAs informed that they were coming to meet me: Karnataka Speaker
#07:05 pm: In my public life today there has been a peculiar development. As Speaker, I have a duty to inform the public. In the whole episode, my job is not to save or remove people: Karnataka Speaker Ramesh Kumar
#07:00 pm: Karnataka Speaker is adressing a press conference in Vidhana Soudha after meeting rebel MLAs
#06:27 pm: Congress MLA Byrathi Basavaraj running into Speaker's office in Bengaluru Assembly to submit his resignation.
#06:10 pm: Rebel Congress-JDS MLAs have reached Vidhana Soudha to meet Speaker. They will submit fresh resignations to him.
#05:45 pm: Karnataka: Congress Chief whip in assembly Ganesh Hukkeri issues whip to party MLAs to attend tomorrow's session to pass the finance bill and other matters, failing which absent MLAs will be disqualified under the anti defection law
#05:30 pm: Meanwhile, 10 Goa Congress lawmakers, who resigned from the party yesterday, have officially joined the BJP in the presence of Working President JP Nadda and Goa CM Pramod Sawant. Read full story here
#05:15 pm: When one should dig in and work hard, the president of that party (Congress) is missing from action, there is no one in Congress who will do crisis management. Who would Congress MLAs go to as there is no one to listen to them? If it falls under its own weight, what can we do: Shivraj Singh Chouhan
#05:01 pm: If the need arises, we will do it, but now opposition is in urgency, so if they have so much urgency let them move the no-confidence motion, we will face it: Gowda on trust vote.
#04:55 pm: Political developments were discussed, what was discussed and decided was that the government is in a crisis situation, there is no doubt about it, various reasons for it and steps to solve it were discussed: Rural development minister Krishna Byre Gowda
#04:40 pm: Karnataka Speaker KR Ramesh Kumar has reached his office in Vidhana Soudha. He was asked by the Surpeme Court to meet the MLAs and deal with their resignations.
#03:55 pm: What happened today:
Supreme Court, while hearing a plea of rebel Karnataka MLAs, ordered Karnataka Speaker KR Ramesh Kumar to deal with their resignation by today.
The Speaker moved Supreme Court seeking more time to deal with the resignation issue of rebel MLAs. Supreme Court refused to give a hearing in the matter today.

Congress leader and advocate Abhishek Manu Singhvi, who had mentioned the matter before the Supreme Court, told the Court that such a direction, asking the Speaker to decide on the resignation of ten rebels, can't be issued by the SC.

Supreme Court said, 'In the morning we have fixed the matter for hearing tomorrow'. Kumar's plea rejected.
#03:40 pm: The dissident MLAs will meet Speaker at 6 pm after Supreme Court order. The MLAs, whose resignations were cancelled by the Speaker, will submit fresh resignations.
#03:30 pm: Karnataka CM HD Kumaraswamy, Congress leader DK Shivakumar and others inspect security arrangement at Vidhana Soudha in Bengaluru. The rebel MLAs have been directed by the Supreme Court to meet Karnataka assembly speaker at 6 pm today and resubmit their resignations.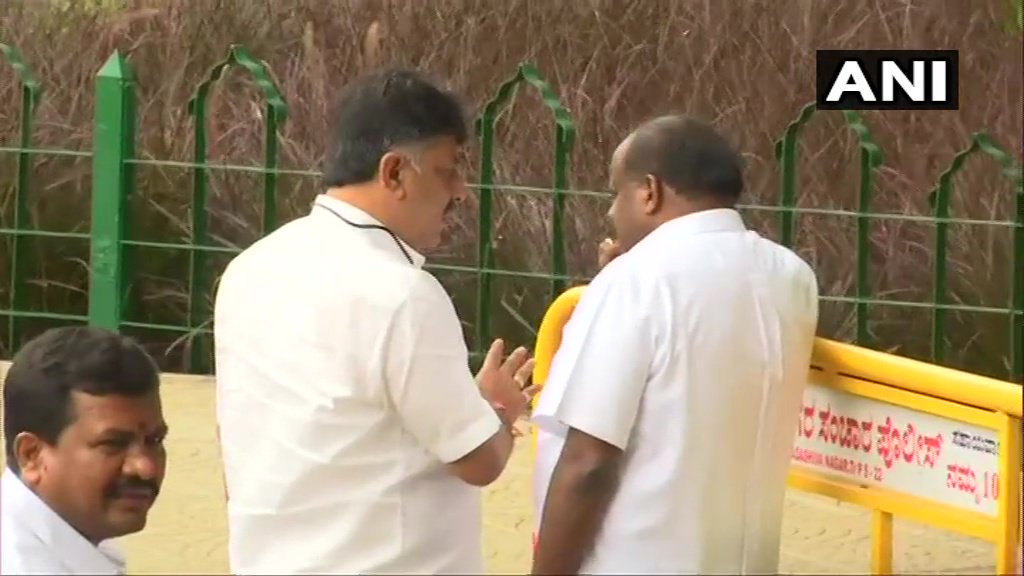 #03:00 pm: Rebel Congress MLAs reach Chhatrapati Shivaji Maharaj International Airpor, Mumbai. They have been directed by the Supreme Court to meet the Karnataka Assembly Speaker at 6 pm today and submit their resignations if they so wish.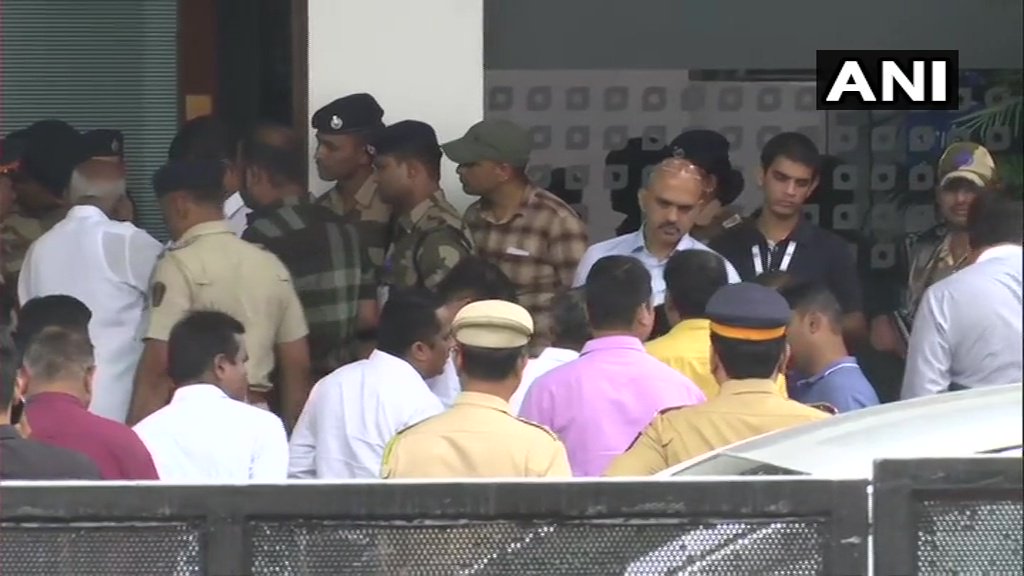 For all the Latest India News, Download News Nation Android and iOS Mobile Apps.