New Delhi:
Karnataka deputy Speaker Krishna Reddy on Thursday adjourned the House without holding a trust vote amid massive uproar by the Opposition BJP MLAs, who sat on an overnight 'dharna' in Assembly. The BJP lawmakers were demanding that the Speaker replies to the Governor's letter and holds a floor test by the end of today.
Earlier in the day, chaotic scenes emerged from Karnataka Assmebly after Chief Minister HD Kumaraswamy moved trust motion. During the debate on no-confidence motion, Congress leader DK Shivakumar alleged that the BJP "abducted" his party MLA Shrimant Patil, who had gone incommunicado right before trust vote and was later found to be admitted at a hospital in Mumbai.
Before the House was adjourned, BJP leader B S Yeddyurappa declared that his party members would stay put in the House itself overnight and even till the time the trust vote was decided. "There has been a breach of constitutional framework," Yeddyurappa said, adding that "to protest against this, we will sleep here itself."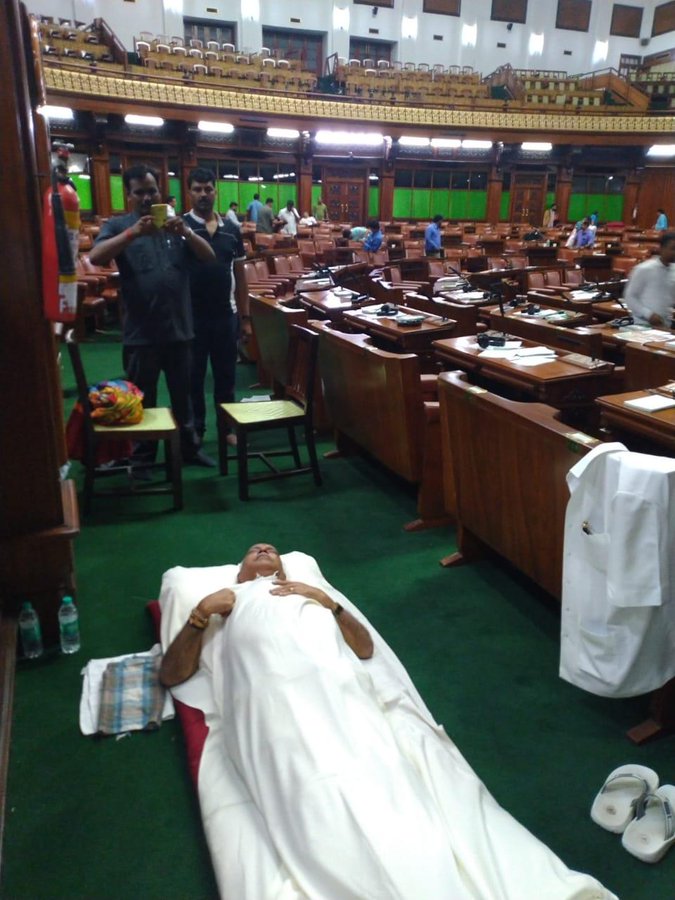 BS Yeddyurappa sleeping inside Karnataka Assembly
Earlier in the day, Facing a truncated strength caused by resignation of 16 ruling coalition MLAs, Chief Minister HD Kumaraswamy moved aone-line motion, saying the House expressed confidence in the 14-month old ministry headed by him.
Suggested Read | Congress-JDS govt does not have numbers, will fall: BS Yeddyurappa after Supreme Court's verdict
Adding to the worries of the ruling coalition, another Congress lawmaker Shrimant Patil was not seen in the House, amid reports that he has been admitted in a hospital in Mumbai, where 12 rebel MLAs are corralled in a hotel.
Also, BSP MLA Mahesh, on whose support the ruling coalition was counting, also did not turn up in the House, amid reports that he was keeping away as he has not received any directions from the party leader Mayawati on the stand to be taken on the trust vote.
Seeing the delay in the proceeding of the trust vote, a delegation of BJP leaders met Governor Vajubhai Vala, who directed the Speaker to consider the floor test by the end of today.
"Motion of confidence is in consideration at the house. Chief Minister is expected to maintain confidence of the house at all times. Consider trust vote by the end of the day," the Governor told Speaker after meeting with the BJP leaders.
For all the Latest India News, Download News Nation Android and iOS Mobile Apps.