New Delhi:
The fate of the Congress-JDS government in Karnataka hangs in the balance as the House was adjourned without a trust vote on Monday as well. The ruling party asked the Speaker to wait for the Supreme Court's order tomorrow, he, however was admant on his decision to have a floor test by today but later relented after Siddaramaiah's request. The House will again convene at 10 am on Tuesday and the Speaker has given the ruling coalition time till 4 pm to end the debate. The voting on trust motion, moved by Chief Minister HD Kumaraswamy will take place at 6 pm, Speaker KR Ramesh Kumar said.
Karnataka Floor Test: As it happened
#11:46 pm: Speaker: Close it before 4 pm. House adjounred till 10 am tomorrow. Discussion to be finished by 4 pm and voting by 6 pm.
#11:45 pm: Siddaramiah: let's have it tomorrow 8 pm trust vote. Speaker asks for time by when Congress will wrap speeches and allow trust vote. Siddaramaiah says tomorrow by 8 pm.
#11:12 pm: Yeddyurappa: We had a commitment on Friday. Congress leaders took most amount of time to speak. We still have 1 hour left. So please go ahead and let them speak.
#11:10 pm: Zameer: Speaker, take some stand here. We've been waiting for all of them to either speak or you take a decision
#11:09 pm: RV Deshpande: We had promised that we will complete it today but I request you to cooperate today.
#11:08 pm: Shettar: Why don't you have commitment? If this was there earlier, you(Congress leaders) would have controlled the number of speakers.
#11:02 pm: RV Deshpande: The environment which is seen in the house, the entire world is seen. Debates should take place in the house but this environment should not be seen as this will bring a bad name to Karnataka. What are we achieving? It's all about number game.
10:58 pm: Speaker KR Ramesh Kumar is back on the chair.
#10:53 pm: Roopa: There are ladies in the house. Please finish this soon so that we can go home soon.
#10:52 pm: MB Patil: There are many speakers and we will not be done by 12am. Adjourn the house and we will come back tomorrow at 11am. The SC order will be out by afternoon. Then we can take a call.
#10:51 pm: CT Ravi: This script was written few days back. The direction, scripting was done few days back.
#10:50 pm: UT Khadar: No one is ready for the trust motion today. Take a head count.
#10:49 pm: MB Patil: If we wait for tomorrow, we'll get SC's order. Let's have it tomorrow.
#10:48 pm: Suresh Kumar: In this house, we don't know who is ruling and who's opposition.
10:41 pm: Congress MLA Venkataramanappa to BJP: Are you scared your MLAs will not stay? Take the floor test tomorrow. What will happen tomorrow?
#10:39 pm: MLAs of the ruling Congress-JDS coalition are not allowing the House to run. They are saying that many of their members are diabetic and they need food.
#10:35 pm: DK Shivakumar request the Speaker to adjourn the house. Congress-JDS MLAs are standing up, damanding adjournment of the House. Deputy Speaker is on the chair now.
#10:33 pm: Shivalinge Gowda: We're diabetic patients. Even Yeddyurappa is diabetic. We'll discuss this for the next 2-3 days.
#10:10 pm: DK Shivakumar, Congress: Speaker has served notice to rebel MLAs, giving them time till 11 AM tomorrow. BJP is trying to convince them that they won't be disqualified and they will be made ministers. As per Constitution of India, you can't be made a member once you're disqualified.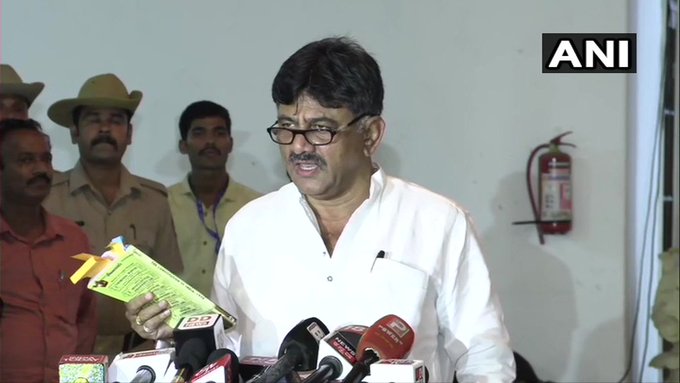 #09:42 pm: Shettar: CM has moved the trust motion. Now, they are giving the SC issue which I do not understand. Hence this will not bring respect to this house.
#09:41 pm: What do you mean by save everyone's dignity? What have we done? We got to know everything about yourself this morning.
#09:40 pm: Madhuswamy: Please finish it today to save everyone's dignity.
09:38 pm: HD Kumaraswamy: Madhuswamy says that he keeps you at the highest rank. We also believe in you and your ruling. Yes, we had said we'll finish it by today. Siddaramaiah and I had sought your advice and you had granted permission. But now, several ministers and MLAs wish to speak hence they should be given permission.
#09:36 pm: HD Kumaraswamy:I got information that I have tendered my resignation to the governor. I don't know who is waiting to become CM. Someone has forged my signature and have spread the same on social media. I'm shocked at the cheap level of publicity being taken up.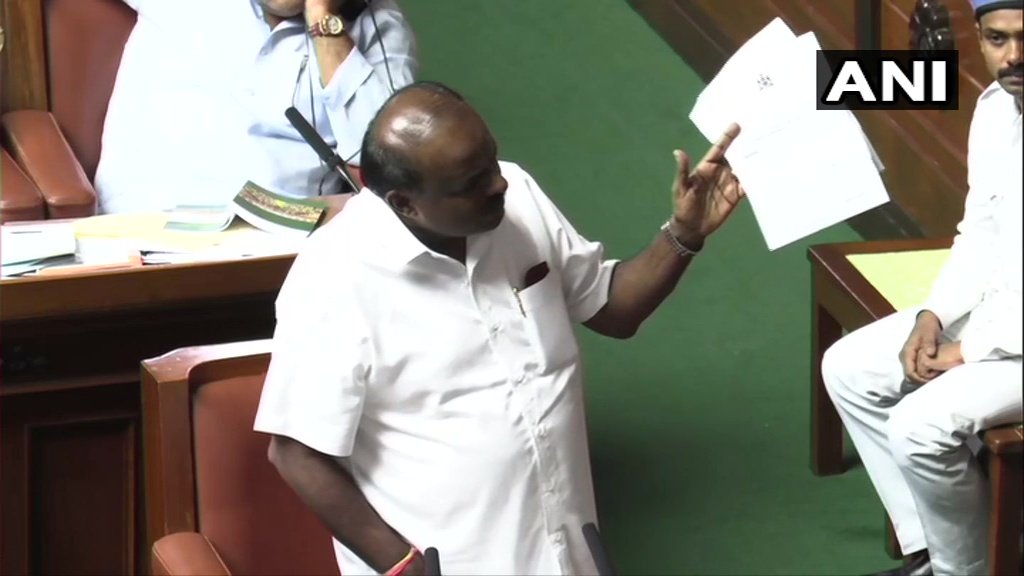 #09:35 pm: HD Kumaraswamy: In the backdrop of the ruling given by you in the morning, they had an assumption that the rebels would come to the house.
#09:33 pm: Now Chief Minister HD Kumaraswamy is speaking.
#09:28 pm: Speaker: HK Patil, I will not accept that the house is not full. Whip cannot be discussed. It's their choice to come or not. If they decide to come day after, I cannot adjourn it till day after. SC has its own way of functioning. Hence I will not comment on it.
09:25 pm: Speaker: Thursday when we began the debate, Siddaramaiah raised the point. I spoke to AG and took some advice. Then we went to Friday and we adjourned to Monday by stating that we will go ahead with trust vote.
#09:22 pm: UT Khadar: Even after we said that we will go for the floor test and that we will prove our numbers, what was the point of going to the SC? That shows they do not believe in the system.
#09:15 pm: Revanna: I won't raise my voice against Madhuswamy. CM had moved the trust vote motion. We're not dragging it but it's the BJP. We didn't go to SC but it was the rebels. They said we cannot compel the MLAs to come for the session and Siddaramaiah has spoken about our issues. Now Independent MLAs ahve also gone to SC.
#09:11 pm: A fake resignation letter of Chief Minister HD Kumaraswamy is being circulated on social media. This is a fake letter and Kumaraswamy has not reisgned yet.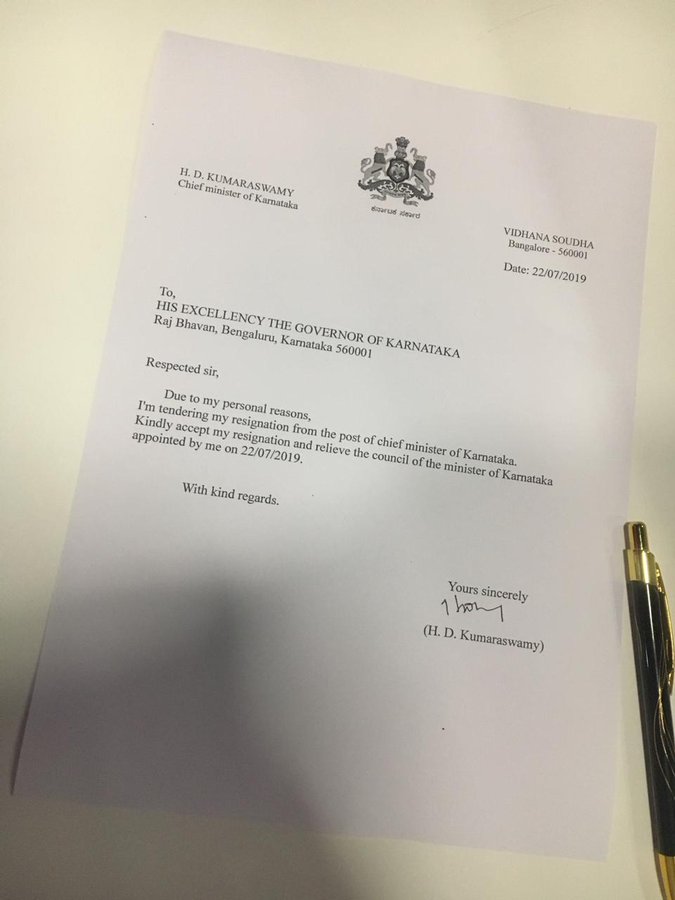 #09:10 pm: Madhuswamy: We are against the matters which are seized up in the SC. They ahve spoken so much about Governor but they should not forget that it was him who gave them 24 hours to form the govt. Hence they should not talk ill about him.
#09:08 pm: Madhuswamy: We could have argued regarding the Whip applying to the rebels or not. But we didn't.
#09:07 pm: Madhuswamy: I moved the trust motion but it was taken up before I could submit the letter. It's not our duty to prove the numbers but it's their choice. It doesn't matter if the rebels will come or won't. When the matter is seized on the SC, why are they not willing? SC are well aware about the no confidence motion. We could have questioned them but we didn't.
#09:05 pm: Speaker: Don't push me to a point where I'll have to take a decision without asking you. The consequences will be disastrous.
#09:01 pm: HK Patil: After the SC takes a decision tomorrow, then it'll be right to speak and debate on this issue.
#08:58 pm: Yeddyurappa: None of our leaders have protested when they were speaking. Siddaramaiah, CM and yourself(Speaker) promised that floor test will take place on Monday. When our chief Whip was called, we have stated that we will be here till late in the night till all the debates conclude. Please allow us to go ahead with the confidence motion.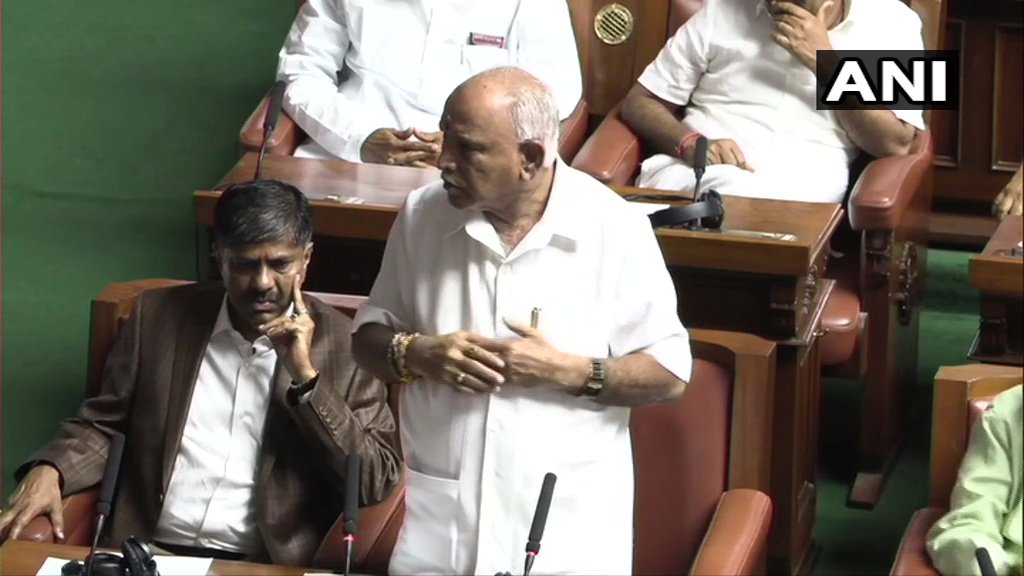 #08:57 pm: Speaker: I'm trying to control myself. This should not happen. I'm being very patient hence you also cooperate.
#08:50 pm: Speaker: It is your duty to behave in an orderly fashion. If I cannot let the opposition leader to speak then why should I be here?
#08:48 pm: Siddaramaiah, Kumaraswmay succeed in convincing protesting coalition MLAs to return to their seats.

#08:45 pm: Lawmakers are protesting. CM Kumaraswamy requests them to return to their seats. "Please be seated. Let's give them chance to speak.

#08:40 pm: SaRa Mahesh: Let the SC take a decision first. Then we can go for the majority.
#08:38 pm: Speaker: Will opposition leader not be given permission to speak? It's being streamed live. People are watching you. Who should be given justice?
#08:36 pm: Bopaiah: Speaker should initiate action on these Congress and JDS leaders. Save constitution and give justice.

#08:35 pm: Yeddyurappa: CM had promised that he will finish it today and prove the majority today. Now I've spoken to Sunill, the Chief Whip, over finishing it today. We will be in the house till 12am.
#08:33 pm: Assembly session resumes as Karnataka Speaker stays firm on decision to hold trust vote today.
#08:25 pm: Speaker KR Ramesh Kumar holds a meeting with CM Kumaraswamy, Karnataka Deputy CM G Parameshwara, SR Mahesh(JDS), Krishna Byre Gowda (Congress) and Siddaramaiah (Congress), in his chamber at Vidhana Soudha, Bengaluru.
#08:15 pm: Speaker KR Ramesh Kumar adamant that trust vote be conducted today and refuses any further adjournments.
#07:20 pm: Speaker KR Ramesh Kumar holds a meeting with BJP leaders-Sunil Kumar, Basavaraj Bommai, CT Ravi & JDS leaders-Sa Ra Mahesh, HD Revanna, Bandeppa Kashempur, in his chamber at Vidhana Soudha, Bengaluru.
#07:05 pm: Meanwhile, Supreme Court will hear the plea of two Karnataka Independent MLAs - H Nagesh and R Shankar, seeking direction to the Kumaraswamy govenrment to hold the trust vote at the earliest.
#07:00 pm: Session has not resumed yet. Congress-LDS leaders are meeting Speaker, demanding that all their MLAs who want to speak should be allowed to speak. Around 12 MLAs are there who want to speak, after that only CM will speak.
#06:45 pm: Karnataka CM HD Kumaraswamy has sought more time from Speaker Ramesh Kumar to prove majority. The Speaker, hwoever, denied his request. "I will lose face if I don't keep my word. I promise that it should be done today... however long it takes," the Speaker said, according to an NDTV report.
#06:24 pm: House adjounred for 10 minutes amid ruckus by BJP lawmakers after Shivalinge Gowda said that they want more time to tell people how the BJP-led government will ruin the administration.
#06:05 pm: Karnataka Speaker Ramesh Kumar has issued notice to rebel COngress-JDS MLAs, syaing that they will be disqualified if they don't attend the Assembly proceedings.
#06:00 pm: Karnataka Home Minister MB Patil has called an official meeting with Commissioner of Police, to discuss about zero traffic reportedly given to rebel MLAs when they came back to Bengaluru to meet the speaker. JD(S) MLA, AT Ramaswamy had raised this matter in assembly today.
#05:35 pm: JD(S) MLA, AT Ramaswamy walked out of the Vidhana Soudha following state home minister MB Patil's statement on zero traffic reportedly given to rebel MLAs. Ramaswamy had said, "If Home Minister is lying blatantly in front of the House, how can I stay here?"
#05:30 pm: Congress MLA HK Patil at Vidhana Soudha: Let the Home Minister investigate about this again as everyone has seen how they were given zero traffic. MB Patil will have to gather more information and he has to find out who gave the permission.
#05:20 pm: Home Minister MB Patil at Vidhana Soudha: Only because Governor had asked us to provide them (rebel MLAs) security, we did that. Zero traffic was not provided to them.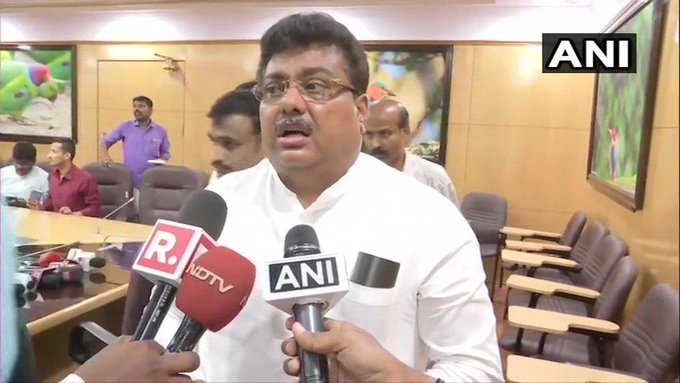 #04:50 pm: P Muralidhar Rao, BJP National General Secy: Congress-JD(S) is violating constitutional rights. Democracy is being murdered. Court has allowed the 15 MLAs (rebel MLAs) that they may or may not be present there. They (Karnataka govt) don't have the nunmbers, they're in minority.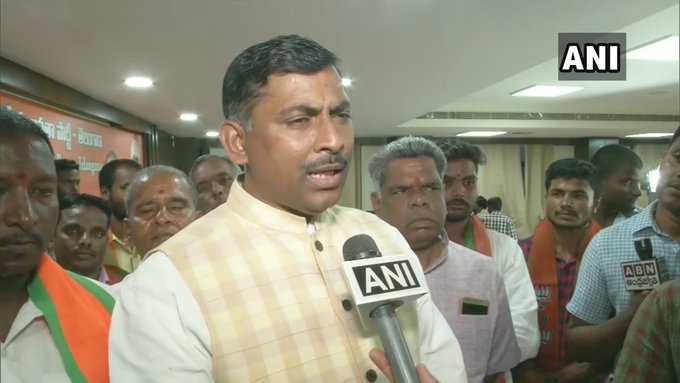 #04:40 pm: Big Breaking: HD Kumaraswamy is likely to meet Governor Vajubhai Vala todya at 7 pm. According to reports, he is likely to sumbit his resignation.
#04:30 pm: Siddaramiah on allegations that he joined Congress soon after quiting the JDS: CT Ravi doesn't have proper info. I didn't leave JD(S), I was expelled. I didn't join Congress immediately. I was forming Ahinda party. I was expelled from JD(S) in May 2005. I joined Congress in 2006. Wrong info shouldn't be recorded here.
#04:20 pm: Speaker KR Ramesh Kumar at Vidhana Soudha, Bengaluru: Each member will speak only for 10 minutes. Don't make me say this again and again.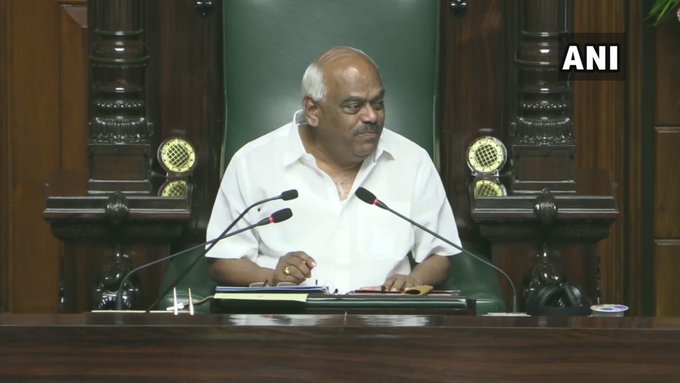 #03:45 pm: Siddaramaiah: "Speaker will take a call on a confidence motion. We have already said that we will prove the confidence in Vidhana Soudha. A case is pending in Supreme Court. We have also filed the petition, most probably tomorrow Supreme Court will hear our plea."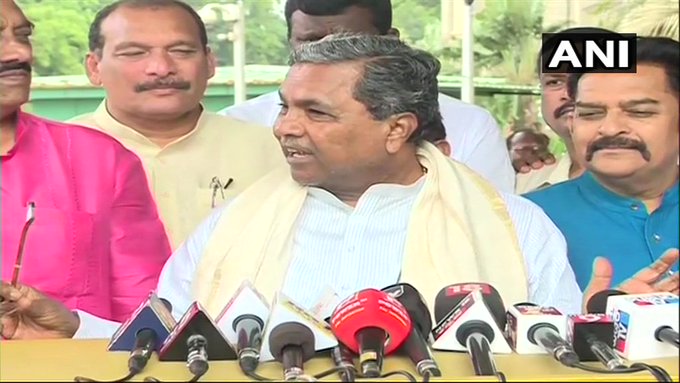 #03:15 pm: Congress' Gundu Rao: Karnataka Speaker has upheld the sanctity of the whip and says it's applicable as per 10th schedule of the Constitution. He ruled that the Supreme Court interim order in no way protects the Rebel MLA's if they violate the Whip.
Welcome his just and equitable order.
#01:45 pm: Krishna Byre Gowda: "If there is no decision on the status of rebel MLAs, the trust vote has no sanctity."
#01:30 pm: Congress's DK Shivakumar says, "Why is the BJP not accepting it wants the chair? Why are they not accepting the fact that they are behind 'Operation Lotus'? They should accept that they have spoken to these(rebel) MLAs."
#01:10 pm: "The debate should start now. Everybody is watching us. Please don't make me a scapegoat. Let us reach our goal," says Speaker.
#12:50 pm: Speaker Ramesh Kumar slams BC Patil: "Isn't he an elected member? Shouldn't he be present here? People have given him the opportunity to be present here. If he's not coming, he needs to write to me. He hasn't done that too. He has enough opportunities to defend himself."
#12:40 pm: Krishna Byre Gowda, talking about the rebel MLAs says: "One is Ramesh Jarkiholi. He has been in touch with the BJP, met them several times in the last few months. He was unhappy for not having received a ministerial berth."
#12:15 pm: BJP MLA Madhuswamy: "We respect Speaker, Siddaramaiah. Both said proceedings will be completed today. We are trusting that. Please complete by noon and give us (opposition) about an hour or two to speak. Allow as many people as you want to speak."
#12:00 pm: The Karnataka Assembly convens. The Speaker begins his address: "I apologise for the delay. I had to hear everyone's pleas and take a stand. I will have to pass a ruling today. I was delayed as I was checking the Supreme Court order."
#11:30 am: Speaker KR Ramesh Kumar had earlier told a New Channel that the trust vote will take place before 6 pm today.
#11:00 am: Karnataka Assembly Speaker KR Ramesh Kumar sends notice to rebel Congress MLAs, asking them to appear before him on Tuesday at 11 am.
For all the Latest India News, Download News Nation Android and iOS Mobile Apps.