New Delhi :
After weeks of drama and political upheaval, Bharatiya Janata Party (BJP) is finally set to form its government in southern state of Karnataka. BS Yeddyurappa, who changed his name to BS Yediyurappa, will take oath as chief minister of Karnataka for the fourth time on Friday at 6 pm. A day after the disqualification of two Congress and one independent MLA by Speaker Ramesh Kumar, Yediyurappa was invited by Governor Vaju Bhai Vala to stake claim to form the governmnet. "I just met the Governor to form the government and take oath as chief minister. The government has agreed and the oath ceremony will take place between 6 and 6.15 pm," Yeddyurappa said. The swearing-in ceremony of Yediyurappa has come just three days after the fall of Congress-JDS coalition government.
Below are the Live Updates of BS Yediyurappa's Swearing-in ceremony:
#08:15 pm: I will discuss with Amit Shah ji and other leaders. If necessary, I will go to Delhi tomorrow, we will take the decision afterwards, CM Yediyurappa added.
#08:00 pm: I have taken two prominent decisions in the Cabinet meeting. In addition to the Prime Minister Kisan Scheme, I will also provide two installments of Rs. 2000 to the beneficiaries, says Karnataka Chief Minister BS Yediyurappa.
#07:57 pm: On Monday, BS Yediyurappa will prove majority at 10 am and pass the Finance Bill.
#07:50 pm: BS Yediyurappa after taking oath as the Karnataka Chief Minister: I thank people of the state who gave me the opportunity to be the Chief Minister. My Chief Minister's post is the respect to the people of the state.
#06:00 pm: Breaking: BJP's BS Yediyurappa takes oath as new Karnataka chief minister. He will have to prove majority in Assembly on July 31.
#06:13 pm: No politics of vengeance under my rule, says Yediyurappa: Ahead of taking oath as Karnataka Chief Minister B S Yediyurappa Friday asserted that there would be no politics of vengeance in his rule and he would take the opposition along. In his address to BJP workers before proceeding to the Raj Bhavan for the swearing in, he said, "We have to show the difference in the administration. There will be no politics of vengeance and I will take the opposition along."
#06:10 pm: BJP will provide stable govt in Karnataka, says JP Nadda: "They (Congress-JD-S) fell under their own weight due to internal reasons...The BJP is synonymous with stability. Wherever we go, we bring stability," Nadda said.
#06:05 pm: BJP State President BS Yediyurappa reaches Raj Bhavan in Bengaluru. He will take oath as Chief Minister shortly.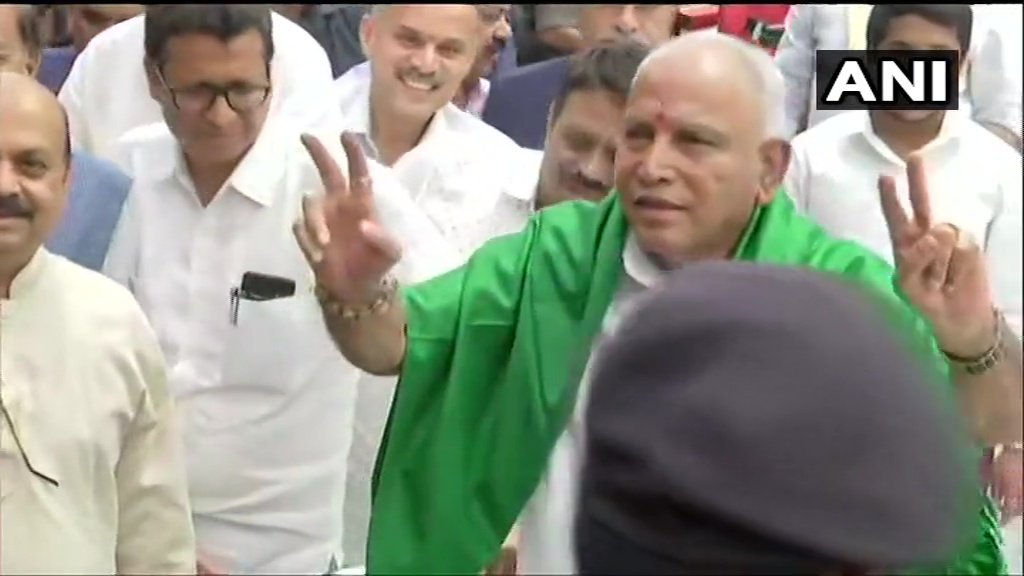 #5:50 pm: Yediyurappa leaves for Raj Bhawan. He will take oath as chief minister shortly.
#05:35 pm: Ahead of his oath taking ceremony, BJP State President BS Yediyurappa offers prayers at Kadu Malleshwara temple in Bengaluru.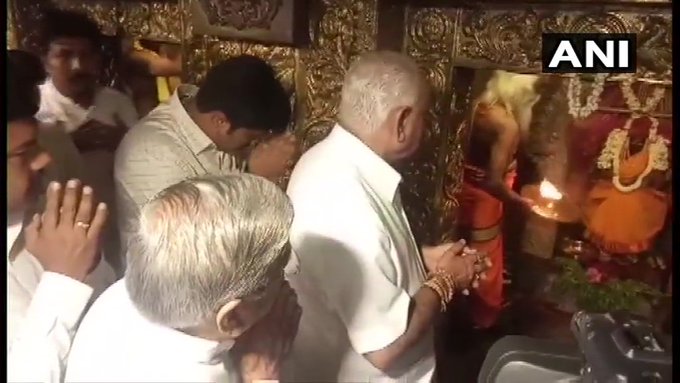 #05:20 pm: BJP State President BS Yeddyurappa arrives at BJP office in Bengaluru.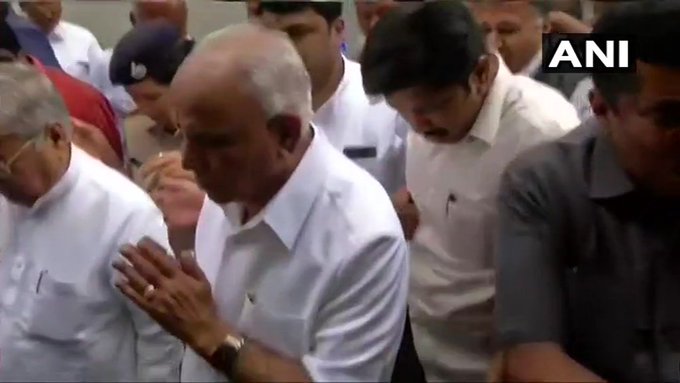 #05:05 pm: BJP State President BS Yeddyurappa leaves from his residence for BJP office. He will take oath as Chief Minister today at 6 pm.
#04:55 pm: Congress says Karnataka Governor Acting like BJP agent: "BJP does not have the numbers to prove majority yet. The Governor continues to act like a BJP agent. The invitation extended by him to Yeddyurappa to form the government is unconstitutional. It is against the mandate given by the people of Karnataka," says Congress leader VS Ugrappa. 
#04:40 pm: Karnataka Chief Secretary T.M. Vijaybhaskar in a letter to Dept Secretaries: BS Yeddyurappa has given directions suggesting all Dept Secretaries to put on hold the orders given by care taker CM (HD Kumaraswamy) in July, till they're looked into by Chief Secy or Depts Secretaries.
#04:35 pm: BJP State President, BS Yeddyurappa paid tribute at National Military Memorial in Bengaluru on the occasion of Kargil Vijay Diwas, earlier today. He will take oath as chief minister at 6 pm today.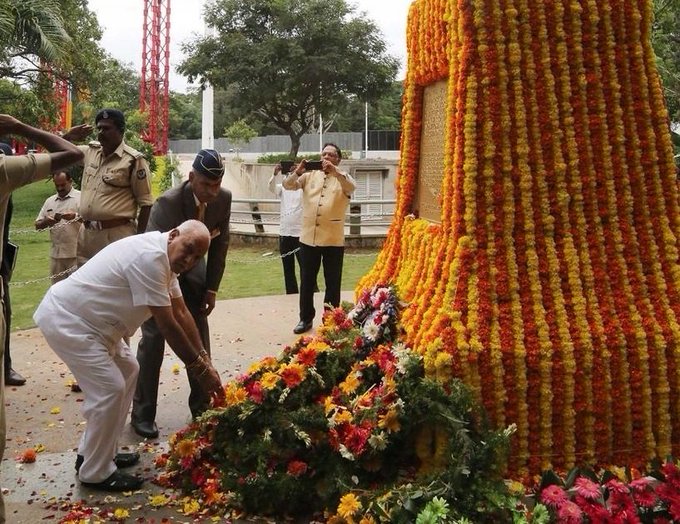 #04:30 pm: Shobha Karandlaje,Karnataka BJP MP: Today BS Yeddyurappa ji has staked claim to form Govt, party high command has supported him. Numbers in assembly are not a problem, also the rebel MLAs are firm on their stand and if they want to join BJP,we will welcome them.
#04:25 pm: Breaking: BS Yeddyurappa will have to prove majority in the Karnataka Assembly by July 31.
04:15 pm: Senior lawyer and counsel for rebel Karnataka MLAs, Mukul Rohatgi(file pic), today apologized to the Supreme Court for being absent before the Court despite being asked by it to be present yesterday. Bench headed by CJI Gogoi accepted his apology.
04:00 pm: BJP's BS Yeddyurappa says he met Governor and staked claim to form the government. He will take oath as new Chief Minister today at 6 pm.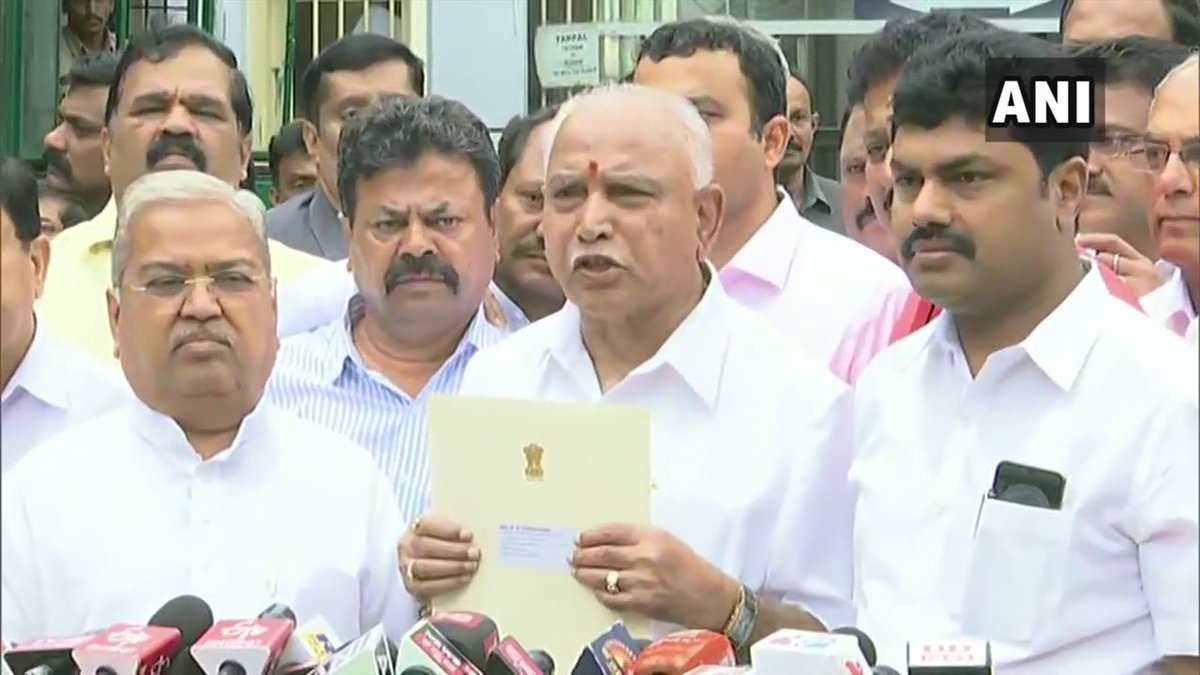 For all the Latest India News, Download News Nation Android and iOS Mobile Apps.