New Delhi:
IND VS BAN Delhi T20I Live Score: Bangladesh embark on its mission to take down formidable India as the clash on Sunday in their first T20 International at Arun Jaitley Stadium in Delhi even as the pollution level in the city remained hazardous. The national capital is reeling under prevailing smoggy conditions with health-emergency put in place but Bangladesh captain Mahmudullah made it clear that his team is not focusing on pollution but the game. However, an ever-bigger challenge for them will be facing formidable India without their biggest matchwinner Shakib Al Hasan, who has been banned from international cricket for 2 years by the ICC. India, on the other hand, will be led by Rohit Sharma in the absence of Virat Kohli. The men-in-blue have been in a pleasing form but would like to tread warily as taking Bangladesh for granted won't be wise. Stay with us as we bring you ball by ball live coverage of the match.
IND VS BAN Delhi T20I Live Score And Updates:
#10:26 pm: SIX! Balgadesh defeated India for the first time in T20I.
#10:22 pm: Interesting! Shivam Dube will bowl the final over. Seems like Rohit has also given up.
#10:21 pm: 4,4,4,4 and Bangladesh needs just 4 runs in the last over. Mushfiqur Rahim has also reached his fifty.
#10:20 pm: FOUR More! Rahim is showing his class and Bangladesh is now eight runs away from victory.
#10:20 PM: FOUR! Back to back boundary. Rahim has taken Bangladesh a step closer towards the victory.
#10:19 pm: FOUR! Short, down the leg and slow. Rahim pulled it to deep backward square leg fence for four!
#10:16 pm: Khaleel Ahmed will bowl the 19th over, which means Deepak Chahar will have the responsiblity of the final over. Can India defend this?
#10:15 pm: FOUR! Mahmudullah waited for it and litterally slapped it wide of Manish Pandey at long-on. He dived to failed to stop the boundary. Bangladesh needed 22 in 12 balls.
#10:12 pm: Dropped! Krunal Pandya must know its criminal to drop such a catch at this moment. Moreover, its a four! Has he dropped the match as well?
#10:10 pm: Chahal comes back into the attack. Skipper Mahmudullah is the new man in.
#10:09: OUT! Bowled!! Khaleel provides India with a much much needed breakthrough. It was an off cutter from Kahleel and set Sarkar failed to cut it. Score after 17 overs: BAN 114-3; Soumya Sarkar39, (35)Rahim37(35)
#10:07 pm: In the airrrr drops just short of fielder at wide long-on. Two runs. Run rate goes to 11 as Bangladesh need another 35 to win this.
#10:01 pm: SIX! Short ball and Rahim hooked it over fine leg for six. Pressure on Khaleel. 38 runs needed in 23 balls.
#09:59 pm: Six runs off the over. 44 runs required in 24 balls. Score after 16 overs: BAN 105-2, Soumya Sarkar37(33), Rahim30(31)
#09:56 pm: Five single in the over. Bangladesh need 50 runs in 5 overs with eight wickets in their hand. Score after 15 overs, BAN 99-2; Rahim 28(28), Soumya Sarkar 34(30)
#09:52 pm: Rohit introduces pace attack. Khaleel Ahmed is back into the attack
#09:49 pm: SIX! What a shot!!! Soumya Sarkar comes down the track. Krunal bowled it wide of off. It was well out of Sarkar's reach, what Pandya thought, but actually he reached to the ball, got the elevation and hit it over deep midwicket for a maximum. Another expensive over from Krunal. He conceded 12 runs. Score after 14 overs: BAN 94-2; Rahim 25(24), Soumya Sarkar 34(28)
#09:47 pm: Krunal Pandya is back into the attack. Can he provide India with a breakthrough? Off course he can, but will he do that now is the big question. India needs it badly.
#09:46 pm: Single to end the over. Good over from Sundar, just four off it. Score after 13 overs: BAN 82-2; Soumya Sarkar 24(24), Rahim 23(22)
#09:43 pm: Washington Sundar is back into the attack. India needs wickets not just one but two. Sarkar and Rahim has built nicely after the fall of Naim's wicket. They know the target is not big. All they need to do is keep the nerve and play risk free cricket.
#09:42 pm: 8 runs off the over. Bangladesh require another 71 off 48 ball. Score after 12 overs: BAN 78-2; Rahim21(20), Soumya Sarkar 22(20)
#09:39 pm: Four! Another sweep shot from Rahim and the result is also the same. I am the boss of sweeps, Rahim must be feeling after taking three boundaries with the same shot.
#09:37 pm: FOUR! After several appeals, Rahim releases pressure with a lovely shot. Kneels down and sweeps it backward of square. Score after 11 overs: BAN 69-2; Rahim13(15), Soumya Sarkar21(19)
#09:35 pm: To salt to the injury, India didn't take review for two LBW appeals from Chahal. And gues what, both were out. And they wasted it on Pant's appeal.
#09:33 pm: Loud appeal for caught behind from Rishabh Pant. He convinces Rohit to take the review. And there is not edge. India lost the review and Rohit Sharma's reation is epic. Score after 10 overs: BAN 62-2; Soumya Sarkar 20(18) Rahim 7(10)
#09:31 pm: Loud appeal for a LBW but turned down. India won't take the review. Had they taken it, replay shows, Rahim would have a goner. Also missed a run out chance.
#09:29 pm: Seven off Krunal Pandya's first over. Score after 9 overs: BAN 61-2; Rahim6(5), Soumya Sarkar20(17)
#09:28 pm: FOUR! Rahim goes for the reverse sweep. He knows Bangladesh can't lose momentum here as India is known for bouncing back.
#09:25 pm: Krunal Pandya, left-arm orthodox, comes into the attack as India continues with spin.
#09:24 pm: OUT! Naim is caught by Dhawan. Chahal strikes in his first over of the innings. Naim went for the slog sweep but the ball took the edge and went up high in the air towards long-on where Dhawan takes a good catch. A much needed breakthrough. Score after 8 overs: BAN 54-2; Soumya Sarkar19(16) Rahim0(0)
# 09:15 pm: With the end of 7 overs, Bangladesh is 53/1
# 09:10 pm: With 12 runs off the over, Bangladesh is 32/1 after 5 overs
# 09:05 pm: SIX! by Mohammed Naim
# 09:00 pm: After the end of 4 overs, Bangladesh is 20/1 with Naim and Soumya out in the middle.
# 08:56 pm: OUT! Bangladesh loses its first wicket as Liton Das is caught by Rahul at cover-point.
#08:37 pm: SIX! 16 runs off the last over. 30 runs in the last two. Krunal Pandya pulled it over square leg for another six. India post 148 at board. Dew is likely to play a crucial role here but its still a fighting total. Bangladesh would be satisfied with bowling efforts. Will be back in a while, stay with us.
#08:34 pm: SIX! Washington Sunder is playing a crucial cameo here. It was a slower delivery outside off and Sundar stood tall and sent it sailing over long-off for maximum.
#08:32 pm: Al-Amin will bowl the final over. Can India reach 150. Looks tough but not impossible.
#08:31 pm: SIX! Much needed runs for India. A cracking shot from Washington Sundar over wide long-on. 14 runs off the over. Score after 19 overs: IND 132-6; Washington Sundar7(2), Krunal Pandya8(5)
#08:28 pm: OUT! Rishabh Pant wanted to go big but could not clear the boundry and the ball goes straight into the hands of Naim at long-on. He scored 27 runs off 26 balls. Washington Sundar replaces him.
#08:25 pm: Just eight off the over. India needs more. The pitch is paying a little slow and if India can take it to 140, it won't be easy for Bangladesh in the absence of Tamim Iqbal and Shakib, their two key players. Shafiul Islam comes back into the attack. Score after 18 overs: IND 118-5; Pant 25(24) Krunal Pandya 3(3)
#08:23 pm: FOUR! It was a slow bouncer from Al-Amin and Pant waited for it. He looked to go for pull but then just helped it over the keeper's head for four.
#08:21 pm: Al-Amin Hossain is back into the attack. Bangladesh would be a happier side at the moment as the have kept Indian batsmen in check.
#08:20 pm: Eight runs off the over. Bangladesh won't mind. With just three more over left, India now need to accelerate from here. Score after 17 overs: IND 110-5; Krunal Pandya1(1), Pant20(20)
#08:17 pm: FOUR! Wonderful shot from Pant. Opened the face of the bat and used the pace to steer it behind square for four.
#08:16 pm: Mustafizur Rahman is back into the attack. Krunal Pandya is the new man in.
#08:15 pm: OUT! Shivam Dube, the debutant has to go back to the hut as the bowl took a leading edge in an attempted flick by him. Afif took a good jumping catch at his follow through. Score after 16 overs: IND 102-5; Shivam Dube1(4), Pant13(15)
#08:13 pm: FOUR! First boundry from Pant. He sliced it towards deep backward point for four.
#08:08 pm: OUT! Dhawan is run out and its a big blow to India. But it was Rishabh Pant who ran poorly and Dhawn had to pay the price. Debutant Shivam Dube is the new man in. Score after 15 overs: IND 95-4; Shivam Dube 0(1) Pant7(12)
#08:06 pm: SIX! Massive hit from Dhawan as he dances down the track and send it over the long-on. It went high and over the boundry ropes.
#08:05 pm: Bangladesh introduces more off spin and this time captain Mahmudullah himself has come into the attack.
#08:04 pm: Another tight over from Afif. Just two run off it. Score after 14 overs: IND 85-3; Dhawan34(39) Pant5(10)
#08:00 pm: FOUR! A beautiful shot from Dhawan as rocks back and pulls this half tracker behind square on the on-side. Eight off the over. Score after 13 overs: IND 83-3; Dhawan33(37), Pant4(6)
#07:58 pm: Mosaddek Hossain comes into attack as Bangladesh continue with more off spin.
#07:57 pm: A very good over from Afif as he conceded just two off it. Bangladesh has succesfully kept India at the bay by taking wickets on regular interval and they would not mind anything below 150. Score after 12 overs: IND 75-3; Dhawan27(34) Pant2(3)
#07:55 pm: Afif Hossain, right-arm off break, comes into the attack. Dhawan has been a tad slow today. India has depth in their batting so he can takes his chances now and presses the accelerator.
#07:54 pm: Rishabh Pant is the new man in. With nine more overs left, he has a very good chance to prove himself and shut the mounths of critics. Can he do that? Off course he can, but will he be able to do that today is the big question. Score after 11 overs: IND 73-3; Pant1(2), Dhawan26(29)
#07:49 pm: OUT! Aminul Islam takes his second wicket of the innings. Iyer fall into the trap and went for it after Aminul gave it a plenty of air. Iyer lost the grip of the bat and played it over long-off with one hand. Could not clear the ropes and debutant Naim took a good catch near the boundry line.
#07:45 pm FOUR! A gift from Soumya Sarkar and Iyer collects it with both hands. A full toss and Iyer flicked it through the gap at mid wicket. Score after 10 overs: IND 69-2; Shreyas Iyer 22(12) Dhawan 23(26)
#07:42 pm: SIX! It was a good over from Aminul until Iyer decided to go after him on the last ball. IT was bowled up an Iyer stood tall and sent it back over bowler's head. Score after 9 overs: IND 60-2; Shreyas Iyer15(8), Dhawan21(24)
#07:38 pm: FOUR! Easy-peasy for Dhawan. It was on the pads and Dhawan finely glanced it past short fine leg for four. Score After 8 overs: IND 51-2; Shreyas Iyer 8(5), Dhawan19(21)
#07:36 pm: Spin from both ends. Soumya Sarkar, right-arm medium, comes into the attack.
#07:35 pm: SIX! Looks like Iyer has come prepared from the dressing room itself. It was a tossed up delivery from Aminul and Iyer played it over deep extra cover for a six. Score after 7 overs: IND 44-2; Shreyas Iyer7(2), Dhawan13(18)
#07:32 pm: OUT! KL Rahul once again fails to convert a good start, though a soft dismissal. Aminul strikes in his very first over of the innings. Shreyas Iyer comes to bat.
#07:31 pm: Spin introduced in the 7th over as Aminul Islam, right-arm leg break, comes into the attack.
#07:30 pm: Dhawan and Rahul are the key if India want to go big. These two have the firepower and it's time they sould accelerate a bit. Score after 6 overs: IND 35-1; Dhawan11(15), Rahul15(16)
#07:28 PM: FOUR! A back of length delivery by Shafiul Islam who changed the end. It kept low but Rahul was too classy to play a pick shot that flied over square leg for four.
#07:25 pm: FOUR! First boundry from Shikhar Dhawan and it went like a bullet. Sliced it through point and third man to spoil a very good over from Mustafizur. Score after 5 overs: IND 29-1; Dhawan10(13), Rahul10(12)
#07:22 pm: Now comes the Fizz. Mustafizur Rahman, left-arm fast medium, comes into the attack.
#07:21 pm: Another good over from Al-Amin as conceded just 4 runs. Score after 4 overs: IND 22-1; Rahul 8(10), Dhawan 5(9)
#07:16 pm: Six runs off the second over of Shafiul. Score after 3 overs: IND 18-1; Rahul6(6); Dhawan3(7)
#07:13 pm: FOUR! Beautiful boundry by KL Rahul. Footwork at its best. Rahul treks back a bit and cut it towards the point for four.
#07:11 pm: Very tight over from Al-Amin. Just two off it. Score after 2 overs: IND 12-1; Dhawan2(6); Rahul1(1)
#07:06 pm: Lokesh Rahul, right handed bat, is the new man in. Al-Amin Hossain, right-arm fast medium, comes into the attack.
#07:05 pm: OUT! Rohit Sharma is given LBW. He has taken review but there is no edge. Only height can save Rohit now. He has to go. The ball is hitting the top of middle. However, the review will be retained as it's umpire's call. Score after 1 over: IND 10-1, Rohit9(5); Dhawan1(1)
#07:04 pm: Boundary! Second four of the over from Rohit Sharma and one ball is still to go.
#07:01 pm: Four! Rohit Sharma, who is in the form of his life, has made his intentions very clear. It was down the leg and Rohit just flicked it past third man for bounday.
#07:00 pm: And action begins. Rohit Sharma and Shikhar Dhawan are out in the middle to open India's innings. Shafiul Islam will open Bangladeshi attack.
#06:55 pm: National Anthem time. Both teams are lined up for their respective National Anthems. First Bangladesh's National Anthem is being played. India's 'Jana Gana Mann' will follow next.
#06:40 pm: Shivam Dube will make his international debut in T20's for India while Mohammad Naim will play his first T20I for Bangladesh.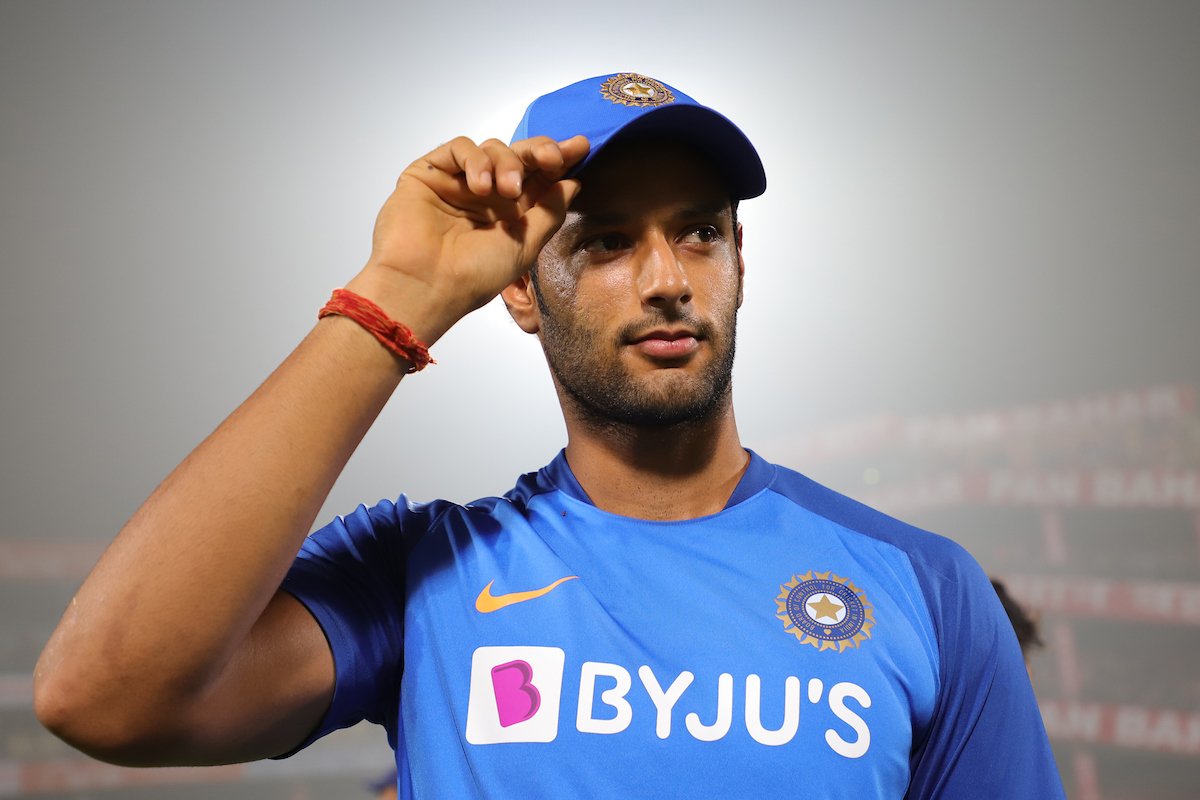 Bangladesh (Playing XI): Liton Das, Soumya Sarkar, Mohammad Naim, Mushfiqur Rahim(w), Mahmudullah(c), Afif Hossain, Mosaddek Hossain, Aminul Islam, Shafiul Islam, Mustafizur Rahman, Al-Amin Hossain
India (Playing XI): Rohit Sharma(c), Shikhar Dhawan, Lokesh Rahul, Shreyas Iyer, Rishabh Pant(w), Krunal Pandya, Shivam Dube, Washington Sundar, Yuzvendra Chahal, Deepak Chahar, K Khaleel Ahmed
#06:32 pm: Its toss time. Bangladesh has won the toss and they have decided to field first.
# 06:05 pm: India vs Bangladesh game will be the 1000th men's T20I game. So far, Virat Kohli is the leading run scorer in this format of the game with Rohit Sharma just 7 runs behind. WHo do you think is the highest wicket taker? Tweet us your answers and one lucky person's tweet will feature in our blog. Also, don't forget to tag @NewsNationTV.
#06:00 pm: Hello and welcome to News Nation live coverage of India vs Bangladesh T20I which is being played at Delhi's Arun Jaitley Stadium, formerly known as Feroz Shah Kotla. The pollution level is beyond severe and we suggest you to use masks if you are going to watch the game. Stay with us as we bring you all the live action.