New Delhi:
Prime Minister Narendra Modi, who is on a three-day Thailand visit, is addressing a gathering at the 'Sawasdee PM Modi' community event at Nimibutr Stadium in Bangkok. The 'Sawasdee PM Modi' event is being organised by Indian community in Thailand in close coordination with the Indian Embassy in Bangkok. During the visit, Modi is also likely to take a crucial decision to finalise the long-overdue Regional Comprehensive Economic Partnership (RCEP), the world's largest trading deal spanning 16-Asia Pacific nations. Besides the RCEP, the prime minister will also attend two other key summits over the next three days in Nonthaburi.
Below are the highlights:
#06:48 pm: In the General Elections this year, for the first time in history the highest number of voters - 60 crore voters, cast their votes. This is the biggest incident in the democracy across the world. Every Indian should be proud of it: Modi
#06:45 pm: When India says anything, world listens. You would have seen it in Thailand also. Over 130 crore indians today are dedicated to progress of new India: PM Modi
#06:40 pm: "We (India & Thailand) are very close to each other not only on the basis of language but also the sentiments. You told me 'Sawasdee Modi', this has connection with the Sanskrit word 'Swasti' which means welfare," says PM at Bangkok event.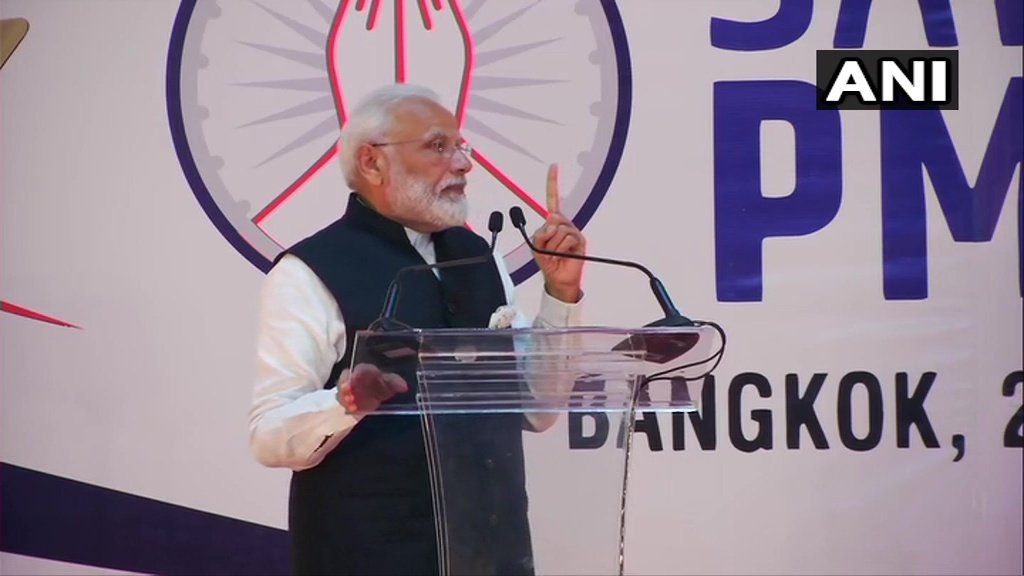 #06:35 pm: The ties between India and Thailand were not established by the governments. It's history that connects us to each other. Every moment shared between two countries in the past has built & strengthened this relation: Modi
#06:30 pm: The affinity, the royal family of Thailand has for India, symbolizes our deep friendly & historical relations. Princess Maha Chakri Sirindhorn is an expert in Sanskrit language & has a deep interest in the culture: PM Modi
#06:25 pm: To address the Indian community at this event, I am in Thailand, among you all today. But I don't feel that I am in a foreign land. The ambiance, the attire, everything here makes me feel at home: PM Modi
#06:20 pm: Watch live: PM Modi addressing 'Sawasdee PM Modi' community event.
#06: 15 pm: Modi arrives at stage, will address 'Sawasdee PM Modi' community event soon.
#06:00 PM: Prime Minister Narendra Modi arrives at the 'Sawasdee PM Modi' community event at Nimibutr Stadium in Bangkok.

For all the Latest World News, Download News Nation Android and iOS Mobile Apps.