Russian Nuclear Bombers Intercepted Over Baltic Sea By Belgian Air Force
The Russian Jets Intercepted Over The Baltic Sea Included Tupolev Tu-160 Blackjack, A Capable Supersonic Strategic Bomber And Two Sukhoi Su-27 Aircraft.
Close up of a Russian Blackjack tweeted by Belgian Air Force.
New Delhi:
The Belgian Air Force and NATO's BAP mission on Wednesday intercepted Russian combat aircraft flying in the air space over the Baltic Sea. After the intercaption, the NATO forces scrambled a large fleet of F-16 Fighting Falcons (Vipers), F/A-18C Hornet and JAS 39 Gripen fighters to escort the Russian jets, the Belgian Air Force said.
"Today two Belgian Air Force F16 of NATO's BAP mission intercepted two Russian TU160 Blackjack and two Russian SU27 Flanker above the Baltic Sea," the Belgian Air Force (BAF) wrote on Twitter.
This was the first scramble for the Belgian detachment after it took over the mission to safegaurd the air space over Baltic sea on September 3.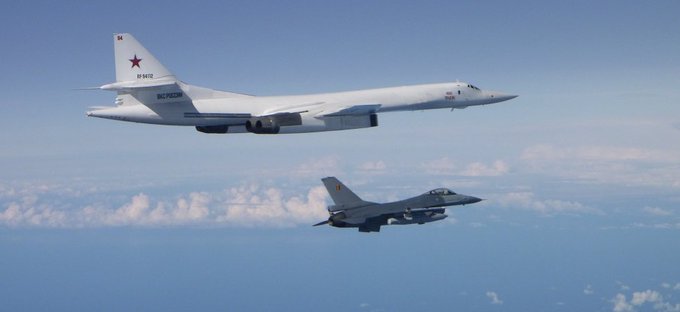 The Russian jets intercepted over the Baltic sea included Tupolev Tu-160 Blackjack, a nuclear capable supersonic strategic bomber and two Sukhoi Su-27 aircraft.
"Some close ups of a Russian Blackjack from today's interception by the Belgian Air Force. DYK The Tupolev TU160 Blackjack is a nuclear capable supersonic strategic bomber. It has a range of 12300 km and a maximum speed of twice the speed of sound," the BAF added.
For all the Latest World News, Download News Nation Android and iOS Mobile Apps.
First Published : 19 Sep 2019, 12:19:46 AM